Les dejo la actualizacion del convective outlook para el dia de hoy: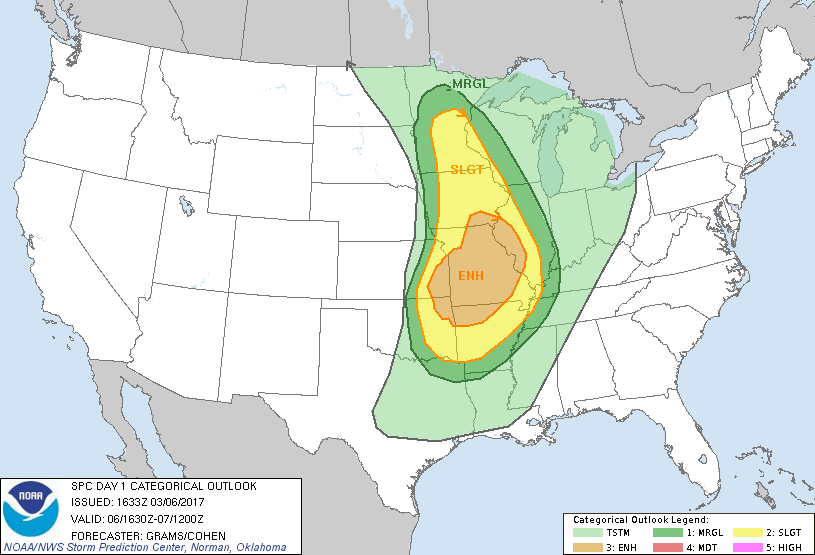 % de tornados.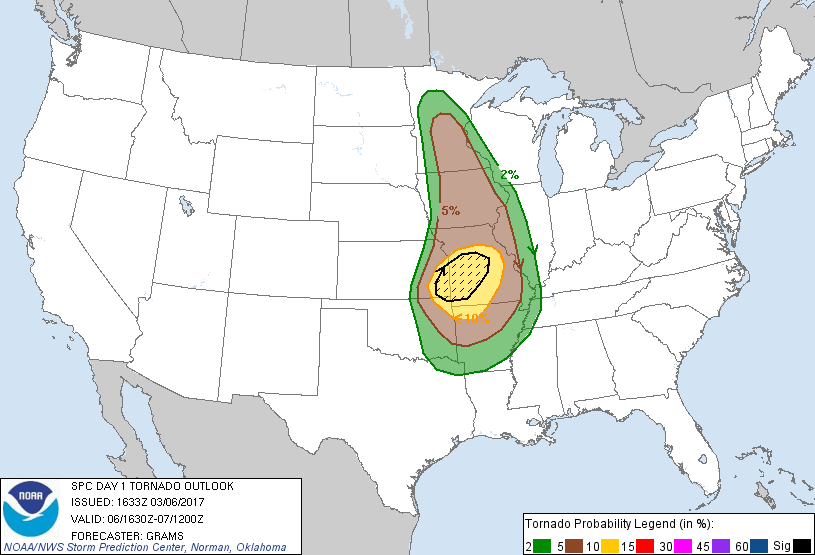 % de vientos.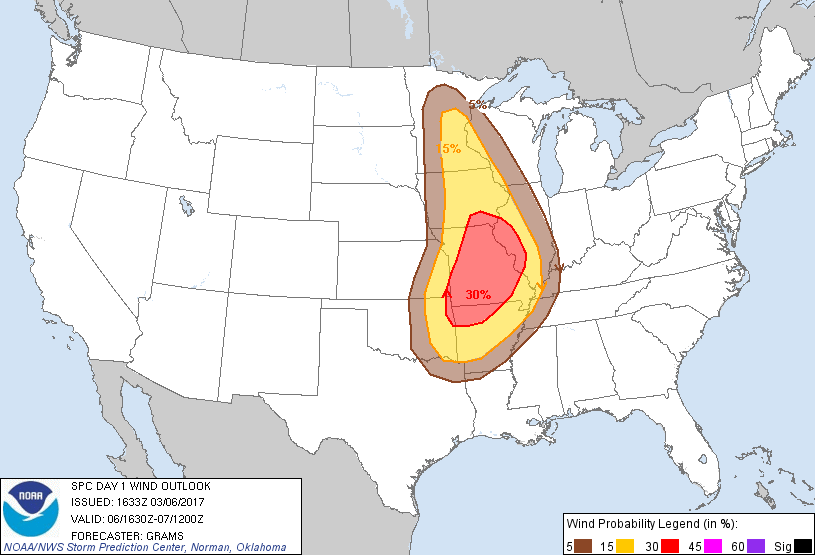 % de granizo.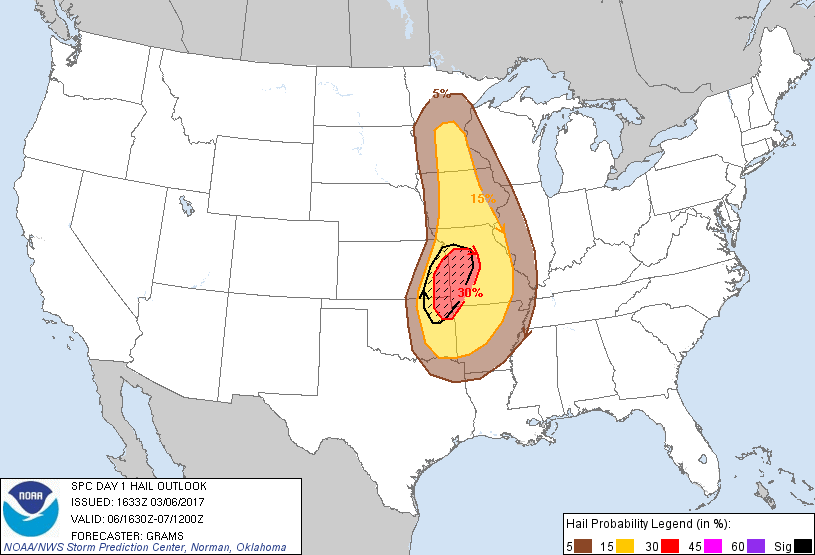 Discusión:
SPOILER - El siguiente texto está oculto. Presioná en la barra para mostrarlo.

Day 1 Convective Outlook
NWS Storm Prediction Center Norman OK
1033 AM CST Mon Mar 06 2017

Valid 061630Z - 071200Z

...THERE IS AN ENHANCED RISK OF SEVERE THUNDERSTORMS MID-MS VALLEY
AND OZARK PLATEAU...

...THERE IS A SLIGHT RISK OF SEVERE THUNDERSTORMS UPPER MIDWEST TO
EASTERN OK AND AR...

...THERE IS A MARGINAL RISK OF SEVERE THUNDERSTORMS CENTRAL
STATES...

...SUMMARY...
Numerous severe storms are expected starting late afternoon and
continuing into tonight across the central states. The greatest
concentration of tornadoes, a couple of which may be strong,
damaging winds, and large hail is expected to be across the Ozark
Plateau to the Mid-Mississippi Valley.

...Lower Missouri Valley, Ozark Plateau, Mid-South...
Scattered storms should develop along the dryline late afternoon
centered on eastern KS as mid-level height falls overspread this
boundary downstream of a vigorous northern Great Plains shortwave
trough. Despite a weakness in hodographs near 700 mb, low and
deep-layer shear will be strong. In conjunction with a destabilizing
air mass characterized by a plume of returning Gulf moisture with
lower 60s surface dew points amid steep mid-level lapse rates, the
environment will be quite favorable for supercells. As the cold
front overtakes the dryline, storms will grow upscale this evening.
This should result in a multi-faceted severe risk, all of which
yield probabilistic upgrades this outlook. Large hail and tornadoes,
some of which may be significant, will be the primary risks with any
supercells that can maintain discrete mode immediately ahead of a
probable QLCS. Damaging winds and a few embedded tornadoes should be
the primary hazards with a fast-moving QLCS, supported by very
strong and strengthening mid-level winds, along the northern extent
of moderate instability across Missouri towards the mid-Mississippi
Valley.. With southwest extent towards the Red River, deep-layer
winds will be oriented increasingly parallel to the front, which
should tend to favor a predominant QLCS mode and a more
isolated/less intense severe risk tonight.

...Upper Midwest...
Strong forcing for ascent will overspread this region along the
northern extent of the warm sector, yielding scattered storm
development along the cold front late afternoon. Rather steep
mid-level lapse rates will compensate for comparatively lesser
boundary-layer moisture farther south. Elongated, straight-line
hodographs should support a few supercells, although the degree of
forcing will probably tend to favor upscale growth into one or more
short-line segments. All hazards appear possible with widely
scattered severe reports expected.
A las 20z, van a actualizar de vuelta.