Nueva actualización. No hay cambios.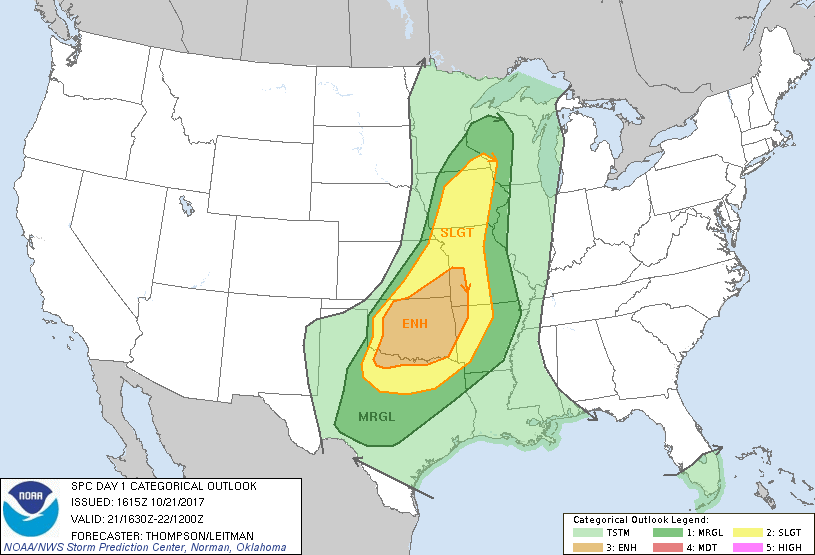 % de tornados.
SPOILER - El siguiente texto está oculto. Presioná en la barra para mostrarlo.
Viento.
SPOILER - El siguiente texto está oculto. Presioná en la barra para mostrarlo.
Granizo.
SPOILER - El siguiente texto está oculto. Presioná en la barra para mostrarlo.
Discusión.
SPOILER - El siguiente texto está oculto. Presioná en la barra para mostrarlo.

Day 1 Convective Outlook
NWS Storm Prediction Center Norman OK
1115 AM CDT Sat Oct 21 2017

Valid 211630Z - 221200Z

...THERE IS AN ENHANCED RISK OF SEVERE THUNDERSTORMS THIS AFTERNOON
INTO TONIGHT FROM SOUTHEASTERN KS AND SOUTHWESTERN MO ACROSS
NORTHWESTERN AR AND OK TO PARTS OF THE RED RIVER VALLEY...

...THERE IS A SLIGHT RISK OF SEVERE THUNDERSTORMS FROM NORTH TX TO
IA AND SOUTHEASTERN MN...

...THERE IS A MARGINAL RISK OF SEVERE THUNDERSTORMS FROM CENTRAL TX
TO PARTS OF THE MIDDLE AND UPPER MS VALLEY...

...SUMMARY...
Scattered severe thunderstorms are expected especially across
portions of the south-central Plains late this afternoon into
tonight. Very large hail, damaging winds, and a few tornadoes will
all be possible.

...Synopsis...
A pronounced midlevel trough over the Rockies will progress eastward
to the Plains by tonight. A surface cyclone in southern MB will
move to the north-northeast, as a trailing cold front moves eastward
into the upper MS Valley, and southeastward across the
central/southern Plains and the Ozarks. Low-level moisture
continues to spread northward in advance of the cold front and
beneath a plume of steep midlevel lapse rates, which will combine
with increasing deep-layer vertical shear and lift along the front
to support a threat for severe storms this afternoon into tonight
from IA to north TX.

...Eastern KS to IA this afternoon through tonight...
Initial severe thunderstorm development is expected by mid afternoon
along the cold front in KS (possibly evolving from early midlevel
convection), and storms will subsequently expand northeastward into
IA through this evening. Remnant steep midlevel lapse rates and
moderate buoyancy will support an initial large hail threat with the
frontal convection, and deep-layer vertical shear will be sufficient
for supercells. However, largely front-parallel, deep-layer shear
vectors and flow aloft will tend to support rapid upscale growth
into a squall line in the zone of linear ascent along the front by
this evening. As such, damaging winds will become the main threat,
though limited surface heating and moistening profiles aloft with
time may tend to limit the downdraft/damaging-wind threat with
northeastward extent. An isolated tornado or two cannot be ruled
out with the more discrete initial storms, or with embedded
circulations within the line.

...OK to north TX late this afternoon through tonight...
More discrete supercell development will be possible across western
OK and northwest TX in the 21-23z time frame along the dryline, near
and south of a weak triple-point low at the intersection of the cold
front and dryline. MLCAPE of 2500-3000 J/kg, midlevel lapse rates
greater than 8 C/km, and effective bulk shear in excess of 40 kt
will favor supercells with the initial semi-discrete storm
development. A couple of tornadoes and very large hail will be
possible with the initial supercells, though low-level shear in the
warm sector will not be particularly strong to the west of I-35.
Upscale growth into an extensive squall line (likely merging with
the convection farther north into KS) is expected this evening, with
the severe-storm threat transitioning primarily to damaging winds by
late evening. A couple of tornadoes will remain possible this
evening into tonight with embedded mesovortices from southeastern
KS/southwestern MO into eastern OK, especially with more
southwest-northeast oriented bowing segments in the line.

..Thompson/Leitman.. 10/21/2017
Se actualiza nuevamente a las 20z.