Se bajó a leve ahora el riesgo. Se disminuyeron también las probabilidades de viento destructivo.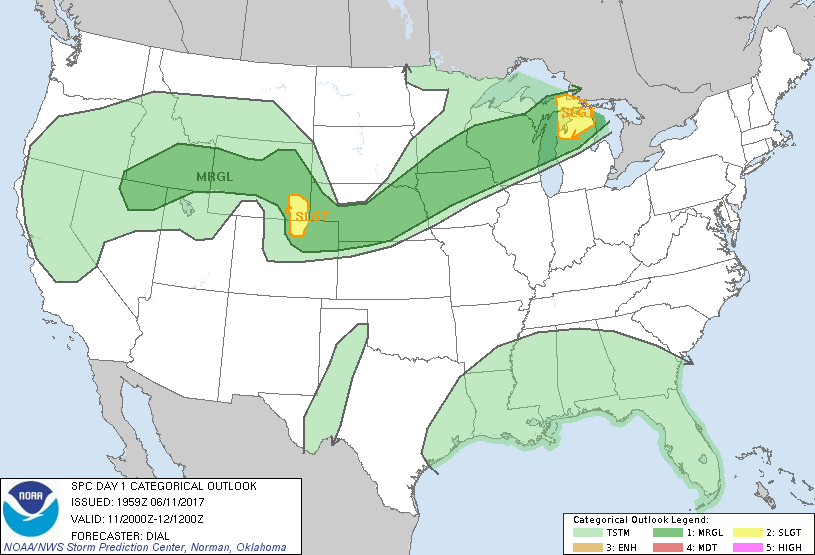 % de tornados.
SPOILER - El siguiente texto está oculto. Presioná en la barra para mostrarlo.
Viento.
SPOILER - El siguiente texto está oculto. Presioná en la barra para mostrarlo.
Granizo.
SPOILER - El siguiente texto está oculto. Presioná en la barra para mostrarlo.
Discusión.
SPOILER - El siguiente texto está oculto. Presioná en la barra para mostrarlo.

Day 1 Convective Outlook
NWS Storm Prediction Center Norman OK
0259 PM CDT Sun Jun 11 2017

Valid 112000Z - 121200Z

...THERE IS A SLIGHT RISK OF SEVERE THUNDERSTORMS OVER A PORTION OF
NORTHERN LOWER MICHIGAN AND THE UPPER PENINSULA OF MICHIGAN...

...THERE IS A SLIGHT RISK OF SEVERE THUNDERSTORMS FROM SOUTHEAST
WYOMING TO NORTHERN COLORADO...

...THERE IS A MARGINAL RISK OF SEVERE THUNDERSTORMS FROM THE
NORTHERN ROCKIES TO THE GREAT LAKES...

...SUMMARY...
Severe storms with a threat for mainly damaging wind will continue
across the remainder of the upper peninsula of Michigan into the
northern part of lower Michigan this afternoon. Otherwise, Isolated
strong-severe storms remain possible across parts of southeast
Wyoming/northern Colorado, and the northern Great Basin as well as
farther east into the central plains and upper Mississippi Valley
this afternoon and evening.

...Northern Wisconsin, northern lower Michigan and the eastern
portion of upper Michigan...

Threat for damaging wind will continue this afternoon into early
evening as squall line continues through this region.

Elsewhere...an east-west band of storms will persist over northern
Wisconsin into early evening within zone of isentropic ascent
resulting from the southwesterly low-level jet interacting with
trailing outflow boundary. These storms are elevated well north of
the outflow boundary with heavy rain the main threat, though a small
risk for marginally severe hail also exists.

...Northern Rockies through southeast Wyoming and northern
Colorado...

Satellite trends suggest storms will develop over the higher terrain
and spread north and northeast. High based storms with inverted-V
profiles will support a risk for isolated downburst winds. Strong
surface - 6 km AGL shear will also promote a few rotating updrafts.
Updrafts may be somewhat more robust from southeast WY into northern
CO where richer low-level moisture has advected westward within the
evolving upslope regime.

...Nebraska through northern Iowa and southern Minnesota...

Will maintain marginal risk category in this region. Strong
instability has developed (3000+ J/kg MLCAPE) where a warm elevated
mixed layer has advected above the moist axis in vicinity of stalled
boundary. However, only shallow frontal convergence and weak forcing
for ascent aloft associated with a building ridge, along with strong
convective inhibition resulting from the elevated mixed layer will
probably limit storm coverage. Any storms developing in this regime
will be capable of producing downburst winds and large hail.

..Dial.. 06/11/2017

.PREV DISCUSSION... /ISSUED 1136 AM CDT Sun Jun 11 2017/

...Synopsis...
An upper low over the northern California coast will move slowly
east towards the Great Basin through tonight. A belt of stronger
mid-level flow will extend across the central/northern Rockies and
from the northern Plains/Upper Midwest into New England. A surface
warm front extends along the southern periphery of the stronger
mid-level flow from low pressure over southeast South Dakota across
central Wisconsin, with a trailing cold front from the low into
northeast Colorado. A surface trough/dryline extends south through
eastern Colorado into far west Texas.

...Upper Midwest/northern Great Lakes into central Plains...
A well-developed bowing MCS continues to move east-northeast at
around 50 kts with a history of wind damage/measured severe gusts
and large hail. In the short-term this MCS is likely to track along
the instability gradient as the warm front slowly lifts north across
central/northern Wisconsin and the Upper Peninsula of Michigan aided
by 40-45 kt 850 mb inflow. Severe wind and hail will remain primary
threats, with a tornado risk associated with QLCS circulations.
Severe storms may also develop in advance of the MCS associated with
low-level warm advection, with supercell structures possible given
ample effective shear and buoyancy. Isolated strong/severe storms
are expected to expected to redevelop later this afternoon west of
the MCS along the composite frontal boundary as afternoon
heating/destabilization takes place within a favorably sheared
environment. Isolated occurrences of large hail and damaging winds
will be possible.

...Front Range of northeast Colorado/southeast Wyoming...
An increasingly moist upslope/post-frontal flow regime will become
established by this afternoon across southeast WY and northeast CO.
The more likely area for isolated severe storm development will be
near the east slope of the Laramie Range southward into northern CO.
Within an environment characterized by MLCAPE of 1000-1500 j/kg and
around 40 kts of deep-layer shear, storms that do form will develop
supercell structures capable of isolated large hail.

...Northern Nevada/southern Idaho into western Wyoming this
afternoon...
A closed mid-level low over northern California will move slowly
eastward to northern Nevada by tonight. Downstream from the low,
upper divergence in the exit region of the cyclonically curved jet
will combine with daytime heating to support at least widely
scattered thunderstorm development. Low-level moisture and buoyancy
will remain limited, though steep low-level lapse rates and
substantial deep-layer southerly shear could support isolated storms
with gusty outflow winds.
Próxima actualización: 01:00z.
----------------------------------------------
Últimas discusiones a mesoescala.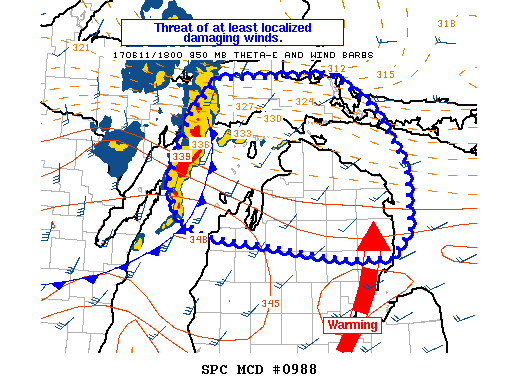 SPOILER - El siguiente texto está oculto. Presioná en la barra para mostrarlo.

Mesoscale Discussion 0988
NWS Storm Prediction Center Norman OK
0246 PM CDT Sun Jun 11 2017

Areas affected...Eastern Upper Michigan into northern Lower

Concerning...Severe Thunderstorm Watch 314...

Valid 111946Z - 112145Z

The severe weather threat for Severe Thunderstorm Watch 314
continues.

SUMMARY...A threat of damaging winds continues across the watch
area.

DISCUSSION...A long-lived convective system is now crossing over
northern Lake Michigan, with sporadic cellular development just
ahead of it near the northern coast. This line of storms has a long
history of producing wind damage.

While instability levels decrease to the east, surface observations
and satellite imagery show warming continues across much of Lower
Michigan, with temperatures rising into the mid 80s along with weak
pressure falls. In addition, southerly low-level flow continues to
increase ahead of the MCS. Therefore, while the line may not be as
strong as it was previously, conditions may prove sufficient for a
continued localized damaging wind threat.

..Jewell.. 06/11/2017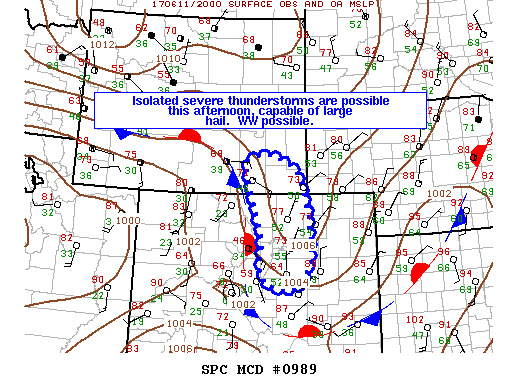 SPOILER - El siguiente texto está oculto. Presioná en la barra para mostrarlo.

Mesoscale Discussion 0989
NWS Storm Prediction Center Norman OK
0349 PM CDT Sun Jun 11 2017

Areas affected...North Central CO...Southeast WY

Concerning...Severe potential...Watch possible

Valid 112049Z - 112315Z

Probability of Watch Issuance...40 percent

SUMMARY...Isolated thunderstorms are expected to develop this
afternoon along the front range and foothills of north-central CO
and southeast WY. The strongest cells may produce large hail. A
watch may be considered.

DISCUSSION...Water vapor loop shows a mid-level shortwave trough
moving across NM and western CO. Mid to high level lift in advance
of this feature is spreading across the Rockies and is approaching
the front range region. Meanwhile, northerly post-frontal surface
winds over much of eastern CO have maintained near-50 dewpoints
across the region. Forecast soundings modified for observed
conditions suggest over 1000 J/kg of MLCAPE and only a weak cap
along the foothills and adjacent plains. Vertical shear is also
moderately strong, with effective shear values of 35-45 knots.

Present indications are that scattered showers and isolated
thunderstorms will form over the foothills this afternoon and spread
into the adjacent counties of CO. A few of the storms may become
supercellular with large hail being a concern. Consensus of CAM
solutions suggests that coverage of severe storms may be quite
sparse. Therefore it is uncertain whether a watch will be needed
for this scenario.

..Hart/Bunting.. 06/11/2017