Hola, les dejo topic de este huracán bastante interesante. Digo así porque se ha estado intensificando más rápido de lo esperado y en estos momentos está muy cerca de la categoría 2, y el NHC prevee en su última discusión que llegue a vientos máximos de 110 mph (acariciando la categoría 3, ergo también la clasificación de
major hurricane).
Actualmente es un huracán de categoría 1 con vientos máximos de 80 kt (90 mph; 144 kph) y una presión mínima de 980 hPa (28,93 pulgadas de mercurio). La última información indica que tiene unos t-números de 5.0/5.0
Hace varios días que un disturbio tropical ha ido ganando intensidad y organización y desembocó en Kenneth, quien adquirió el status de huracán desde más o menos esta mañana. Se está moviendo sobre un ambiente muy favorable (dígase poca cortante y aguas cálidas) y se espera que continue ganando fuerza durante por lo menos 24 horas más, antes de empezar a moverse sobre aguas con SSTs menores a 26 grados, aire más estable y un incremento en la cortante mientras sigue una trayectoria norte-noroeste. Como mencioné al principio, está ganando fuerza más rápido de lo esperado, así que -y esta ya es una opinión personal- no me sorprendería que Kenneth se convierta en el tercer huracán mayor de la temporada.
Tiene muy buena pinta en las imágenes satelitales, y muestra por momentos un pequeño ojo.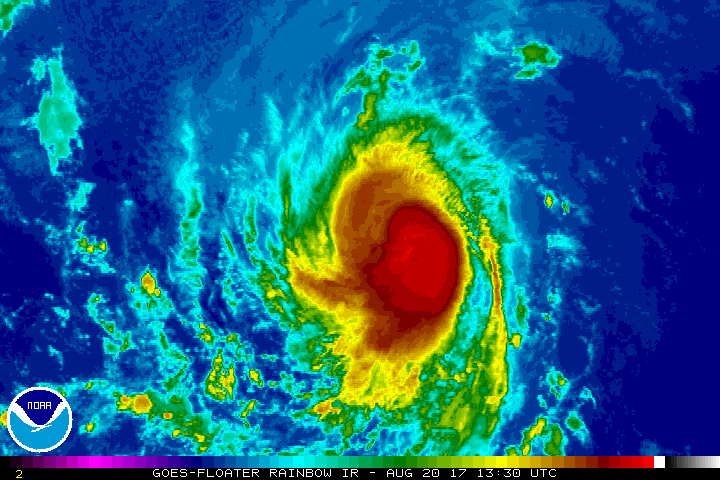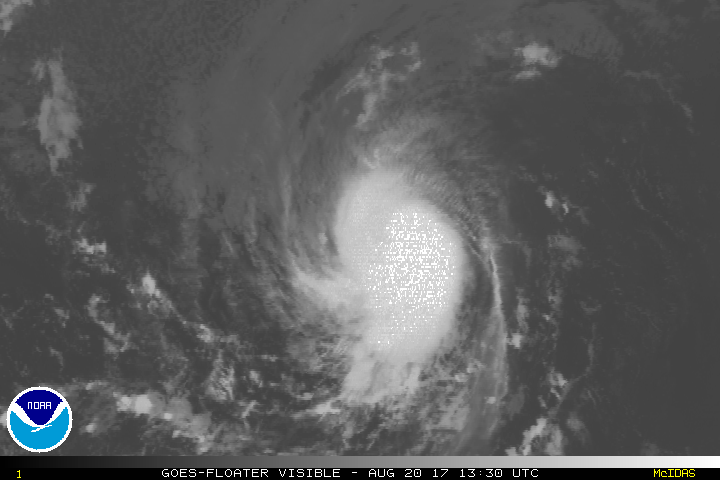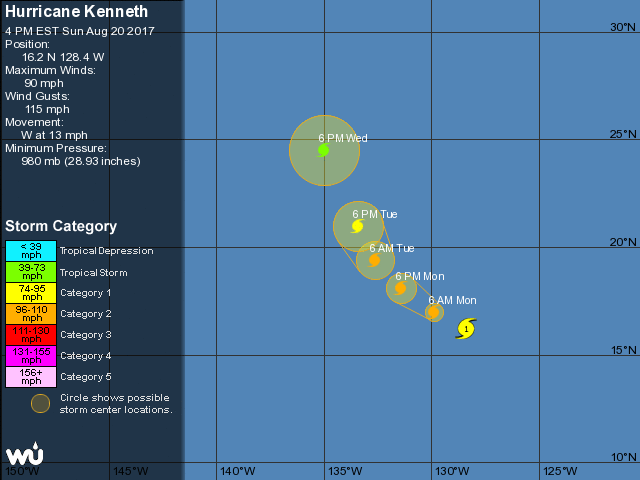 000
WTPZ43 KNHC 202033
TCDEP3
Hurricane Kenneth Discussion Number 10
NWS National Hurricane Center Miami FL EP132017
200 PM PDT Sun Aug 20 2017
Kenneth has been strengthening rapidly during the last several
hours. An eye has appeared in geostationary satellite images and
deep convection has been increasing in intensity, especially to the
east of the center.
The latest Dvorak classifications have
increased, and an average of the intensity estimates from TAFB,
SAB, and ADT values from CIMSS at the University of Wisconsin
support raising the initial wind speed to 80 kt.
The hurricane is still not gaining much latitude, and the initial
motion is 280/11 kt, which is a little slower than before. The
track forecast reasoning is unchanged from earlier. A decrease in
forward speed and a turn to the northwest is expected on Monday as
the hurricane moves on the southwestern side of a mid-level ridge.
After that time,
Kenneth is expected to move north-northwestward
and slow down even more as it moves into a break in the ridge caused
by a cut off low near the California coast.
The track models have
shifted a little to the east beyond 48 hours, and the NHC forecast
has been nudged in that direction.
Kenneth has already intensified more than expected, and it still
has about another 24 hours in favorable environmental conditions.
Therefore, additional strengthening is anticipated
, and the NHC
intensity forecast lies at the high end of the guidance in the short
term, in best agreement with the HCCA model.
Beyond 24 hours,
Kenneth is expected to move over waters cooler than 26 deg C and
into a progressively drier and more stable air mass. These
unfavorable conditions combined with an increase in southerly shear
beginning in about 72 hours should cause a steady weakening trend.
Kenneth is now forecast to become a post-tropical cyclone by day 4,
when it will be over SSTs near 23 deg C and in wind shear conditions
of nearly 30 kt.
FORECAST POSITIONS AND MAX WINDS
INIT 20/2100Z 16.2N 128.4W 80 KT 90 MPH
12H 21/0600Z 17.0N 129.9W 90 KT 105 MPH
24H 21/1800Z 18.1N 131.4W 95 KT 110 MPH
36H 22/0600Z 19.4N 132.6W 85 KT 100 MPH
48H 22/1800Z 21.0N 133.4W 70 KT 80 MPH
72H 23/1800Z 24.5N 135.0W 55 KT 65 MPH
96H 24/1800Z 27.0N 136.2W 40 KT 45 MPH...POST-TROPICAL
120H 25/1800Z 28.7N 136.6W 30 KT 35 MPH...POST-TROP/REMNT LOW
$$
Forecaster Cangialosi