Un evento SIGNIFICATIVO de tiempo severo puede presentarse esta tarde y esta noche sobre las planicies del Norte de Estados Unidos!. Una profunda onda corta, bloqueada por un anticiclón, se moverá sobre la zona y es por eso que la misma presenta riesgo moderado (que puede ser alto más tarde)
Miren la onda corta en 500 hPa para esta noche: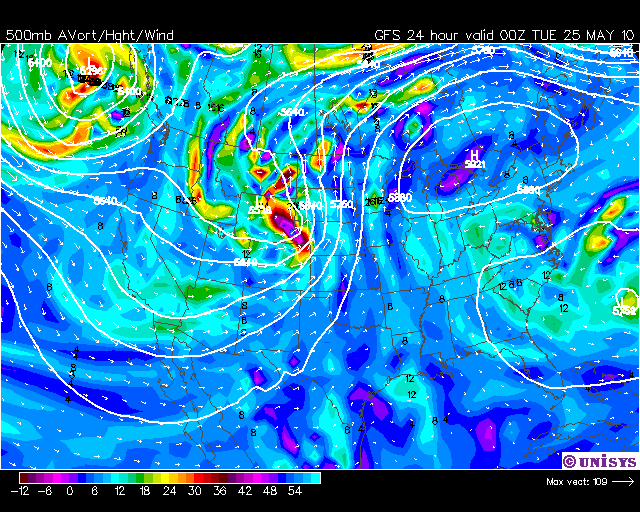 Y miren los campos de 4 paneles, REALMENTE el flujo de capas bajas es IMPRESIONANTE!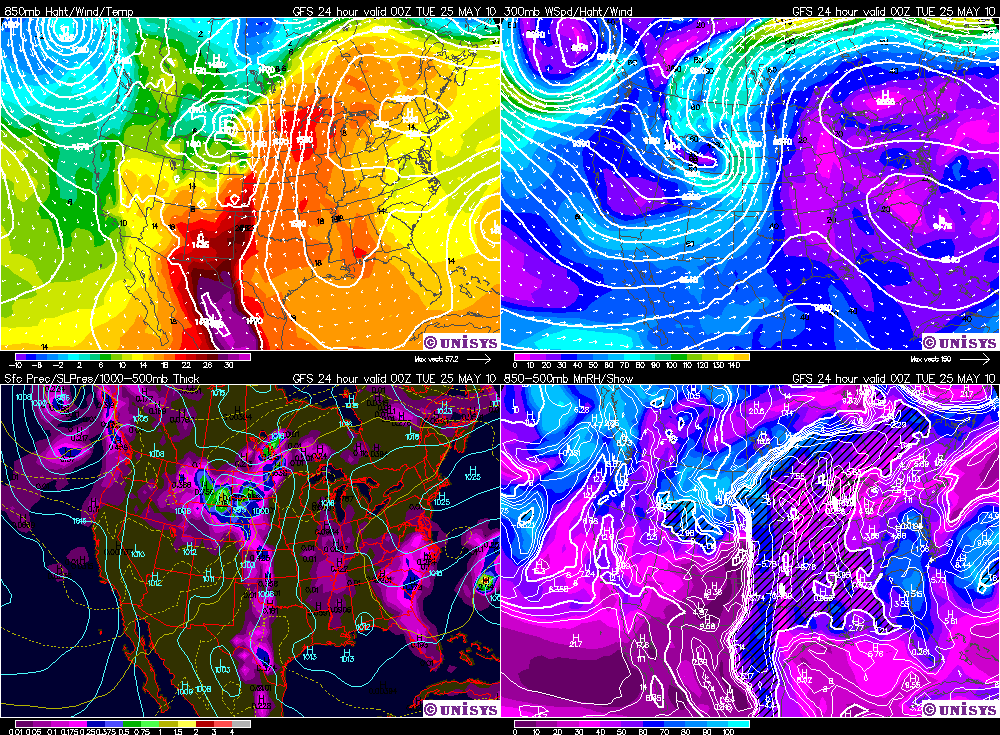 Les dejo la discusión de ellos, se va a poner lindo hoy por estos pagos de nuevo!
...SYNOPSIS...
MORNING WATER VAPOR SATELLITE IMAGERY SHOWS A POTENT SHORT WAVE
TROUGH OVER THE FOUR CORNERS AREA PIVOTING THROUGH THE BASE OF A
LARGER SCALE TROUGH SYSTEM THAT HAS DOMINATED THE WRN STATES FOR
SEVERAL DAYS. MODEL GUIDANCE IS VERY CONSISTENT WITH THE TRACK AND
EVOLUTION OF THIS DISTURBANCE...TAKING THE SHORT WAVE AND ASSOCIATED
75-80KT MID LEVEL JET STREAK RAPIDLY NEWD TO THE NEB PANHANDLE AREA
BY 00Z THIS EVENING...AND THEN CLOSING OFF A 500MB LOW OVER NERN MT
BY TUESDAY MORNING. INTENSE FORCING FOR UPWARD VERTICAL MOTION WILL
OVERSPREAD THE CNTRL AND NRN HIGH PLAINS FROM LATE MORNING THROUGH
THIS EVENING AS THE UPPER TROUGH TAKES ON A PRONOUNCED NEGATIVE TILT
AND DRIVES SIGNIFICANT SURFACE CYCLOGENESIS.
RESULTING SURFACE LOW WILL DEEPEN RAPIDLY WHILE TRACKING ALMOST DUE
NORTH FROM NERN CO TO WRN ND THROUGH THIS EVENING. WARM
FRONT...CURRENTLY SITUATED FROM NEB PNHDL TO ERN SD TO CNTRL
MN...WILL RETREAT QUICKLY NWD ACROSS THE REST OF SD AND INTO ND BY
EVENING. TRAILING DRY LINE WILL MAKE SOME PROGRESS EAST FROM ERN
CO/NM THIS MORNING...INTO KS AND NEB THROUGH THE AFTERNOON...AND
THEN PERHAPS SURGING EWD ACROSS NEB AND NRN KS LATER TODAY AS THE
LOW INTENSIFIES TO THE NORTH.
FARTHER SOUTH...DRY LINE ADVANCE WILL LIKELY BE SLOWER DUE TO LARGE
MERIDIONAL COMPONENT TO THE DEEP-LAYER FLOW.
ELSEWHERE...A BLOCKING ANTICYCLONE WILL TAKE FORM FROM THE GREAT
LAKES TO NEW ENGLAND. SOUTH OF THE CLOSED ANTICYCLONE AT 500MB...A
WEAK SHORT WAVE TROUGH TRACKING SOUTH ACROSS THE CAROLINAS WILL
BECOME ABSORBED BY LARGER DEEP-LAYER CYCLONIC CIRCULATION DRIFTING
SHOREWARD FROM THE ATLANTIC.
...CNTRL AND NRN PLAINS...
AN EXTENSIVE AND VERY MOIST WARM SECTOR AIR MASS LIES IN WAIT ACROSS
MUCH OF THE GREAT PLAINS THIS MORNING AHEAD OF THE HIGH PLAINS DRY
LINE AND SOUTH OF THE AFOREMENTIONED WARM FRONT. PW VALUES OF 1.00
TO 1.50 INCHES EXIST ACROSS THE REGION AND LATEST RAOBS DEPICT STEEP
MID LEVEL LAPSE RATES AND MINIMAL INHIBITION/CAPPING IN PLACE.
INSTABILITY WILL INCREASE RAPIDLY ACROSS THE REGION WITH EARLY
DAYTIME HEATING AND EXPECT SBCAPE OF 1500-3000 J/KG WITHIN THE NEXT
FEW HOURS. GIVEN THIS DEGREE OF DESTABILIZATION AND QUICK ARRIVAL OF
STRONG HEIGHT FALLS EMERGING FROM THE SRN CNTRL
ROCKIES...THUNDERSTORM DEVELOPMENT IS LIKELY TO BE WELL UNDERWAY BY
18Z FROM CO/KS BORDER TO SERN WY AND PERHAPS NEB. STORMS WILL
CONTINUE TO INCREASE IN COVERAGE AND INTENSITY AS COMBINATION OF
CONTINUED DIURNAL DESTABILIZATION AND STRONG ASCENT ACT TO OVERCOME
ANY REMAINING INHIBITION.
STRENGTHENING DEEP-LAYER SLY FLOW ACROSS MUCH OF THE WARM SECTOR
WITH MEAN WIND NEARING 60KT WILL CONTRIBUTE TO FAST STORM MOTIONS
AND SUFFICIENT SHEAR FOR NEWD TRACKING SUPERCELLS. MAGNITUDE OF
INSTABILITY AND SHEAR AHEAD OF THE DRYLINE FROM KS TO SRN NEB
SUGGESTS THAT TORNADOES AND LARGE HAIL WILL ACCOMPANY THIS
CONVECTION. THERE IS SOME INDICATION THAT COLD FRONT/DRY LINE SURGE
INTO NRN KS AND SRN NEB BY EVENING MAY RESULT IN THE EVENTUAL
DEVELOPMENT OF A BOWING SQUALL LINE WITH SUBSEQUENT INCREASE IN WIND
DAMAGE POTENTIAL.
GREATER TORNADO THREAT SHOULD EVOLVE NEAR THE WARM FRONT AND
DEEPENING SURFACE LOW...FROM NWRN NEB ACROSS SD THIS AFTERNOON.
AGAIN...MAGNITUDE OF THE OVERALL FLOW WILL RESULT IN VERY FAST STORM
MOTIONS AROUND 50KT. LOW LEVEL HODOGRAPH CURVATURE AND INTENSE SHEAR
COINCIDENT WITH SUCH A VOLATILE AIR MASS AND FORCING STRONGLY
SUGGEST TORNADIC SUPERCELLS AND VERY LARGE HAIL. EXPECT THIS
POTENTIAL TO EXPAND NWD INTO ND BY EVENING AS THE SURFACE LOW AND
WARM FRONT INTENSIFY. A COUPLE OF STRONG AND POSSIBLY LONG-TRACK
TORNADOES APPEAR POSSIBLE GIVEN THE FORECAST SCENARIO.
...SRN PLAINS...
STORM DEVELOPMENT FROM OK/TX PNHDLS SWD TO THE RIO GRANDE MAY BE
MORE SCATTERED THAN FARTHER NORTH. HOWEVER...IT APPEARS THAT FORCING
FOR ASCENT ACCOMPANYING THE SHORT WAVE TROUGH WILL AT LEAST BRUSH
SOME OF THIS AREA AND...IN COMBINATION WITH DEEP MIXING ON THE DRY
LINE...A FEW TO SEVERAL ROBUST THUNDERSTORMS SHOULD ERUPT THROUGH
THE AFTERNOON. SUPERCELL HAIL/WIND AND TORNADO POTENTIAL WILL EXIST
WITH STORMS PRIMARILY ACROSS THE PNHDLS AND ADJACENT PARTS OF TX/OK.
FARTHER SOUTH...GENERALLY WEAKER FLOW SUGGESTS MORE ORGANIZED
MULTICELL STORMS WITH HAIL AND ISOLATED DAMAGING WIND GUSTS.