Si señor... a sus ordenes.. señor!!!....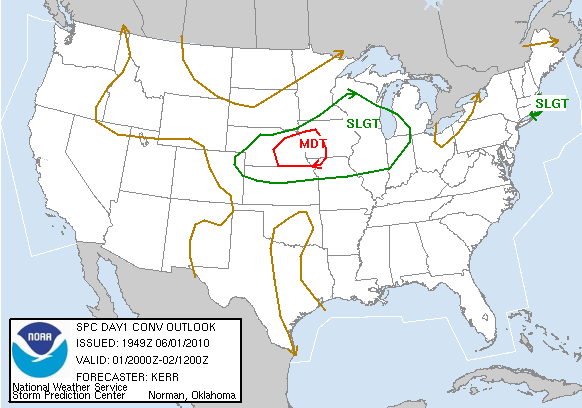 VALID 012000Z - 021200Z
...THERE IS A MDT RISK OF SVR TSTMS LATE THIS AFTN AND EVE ACROSS
MUCH OF ERN NEB/WRN IA AND PARTS OF NWRN MO...
...THERE IS A SLGT RISK OF SVR TSTMS LATE THIS AFTN THROUGH TONIGHT
ACROSS THE CNTRL PLAINS AND MID MO VALLEY INTO THE GREAT LAKES
REGION...
...THERE IS A SLGT RISK OF SVR TSTMS LATE THIS AFTN ACROSS PARTS OF
SERN NEW ENGLAND...
...20Z UPDATE...
THE ONLY SUBSTANTIVE CHANGES TO THE PRIOR OUTLOOK ARE ASSOCIATED
WITH THE LOWERING OF SEVERE PROBABILITIES WHERE ONGOING CONVECTIVE
DEVELOPMENT HAS STABILIZED THE ENVIRONMENT...ACROSS PARTS OF BOTH
THE MISSOURI VALLEY AND PARTS OF THE NORTHEAST.
...CNTRL PLAINS/MID MO VALLEY INTO THE GREAT LAKES REGION...
SEVERE POTENTIAL ACROSS PARTS OF THE UPPER MISSISSIPPI VALLEY...
INCLUDING SOUTHERN MINNESOTA/WISCONSIN AND NORTHERN IOWA...HAS BEEN
TEMPERED/MITIGATED BY DELAYED RETURN FLOW OF BOUNDARY LAYER
MOISTURE. HOWEVER...MID 60S TO NEAR 70F SURFACE DEW POINTS HAVE
RETURNED TO THE MID MISSOURI VALLEY...WHERE MODERATE TO STRONG
DESTABILIZATION IS ONGOING IN THE PRESENCE OF STEEP LAPSE RATES.
BROAD UPPER RIDGING NOW PRESENT ACROSS THIS REGION WILL BECOME
SUPPRESSED LATE THIS AFTERNOON AS A SIGNIFICANT SHORT WAVE IMPULSE
CONTINUES EAST NORTHEASTWARD PROGRESSION OUT OF THE GREAT BASIN/
CENTRAL ROCKIES. COUPLED WITH INCREASINGLY FOCUSED AND
STRENGTHENING LOWER/MID TROPOSPHERIC WARM ADVECTION...LARGE SCALE
FORCING IS EXPECTED TO SUPPORT THE EVOLUTION OF A LARGE MESOSCALE
CONVECTIVE SYSTEM BY THIS EVENING. 18Z RAOBS JUST WEST OF THE MID
MISSOURI VALLEY REVEAL THERMODYNAMIC PROFILES THAT SHOULD BE
SUPPORTIVE OF STRONG DOWNBURSTS AND EXPANDING/CONSOLIDATING SURFACE
COLD POOLS. IT APPEARS THAT MOISTENING/DESTABILIZATION ON THE NOSE
OF A STRENGTHENING /30-50 KT AT 850/ LOW-LEVEL JET...MIGRATING WITH
THE UPPER IMPULSE...COULD SUSTAIN THE INTENSITY OF THE STORM CLUSTER
THROUGH MUCH OF THE NIGHT...CONTRIBUTING TO THE MAINTENANCE OF A
LARGE COLD POOL ACCOMPANIED BY STRONG...POTENTIALLY DAMAGING...WIND
GUSTS ACROSS A LARGE PORTION OF IOWA/NORTHERN MISSOURI INTO NORTHERN
ILLINOIS/ SOUTHERN WISCONSIN.
..KERR.. 06/01/2010
.PREV DISCUSSION... /ISSUED 1119 AM CDT TUE JUN 01 2010/
...CENTRAL PLAINS INTO MID MS VALLEY...
FAST ZONAL FLOW WITH EMBEDDED S/WV TROUGHS EXTENDS FROM PAC NW TO
NERN U.S. IMPULSE MOVING EWD ACROSS WY/NRN CO THIS AFTERNOON WILL
DEEPEN LEE TROUGH/SFC LOW CENTRAL HIGH PLAINS FURTHER ENHANCING THE
SHEAR PROFILES THIS AFTERNOON IN AN ALREADY FAVORABLE ENVIRONMENT
FOR SEVERE THUNDERSTORMS.
ELEVATED SEVERE THUNDERSTORMS DEVELOPED THIS MORNING AS A VERY
UNSTABLE AIR MASS SPREAD NWD OVERNIGHT ACROSS THE CENTRAL PLAINS.
WITH MID LEVEL LAPSE RATES NEAR 8C/KM AND MLCAPES AOA 3000
J/KG...ALONG WITH 30-40 KT OF SHEAR...LARGE HAIL IS ALREADY A THREAT
ALONG AND AHEAD OF THE COLD FRONT SAGGING SEWD FROM CENTRAL MN WSWWD
TO WRN NEB.
DAYTIME HEATING COUPLED WITH THE EXPECTED INCREASE IN THE LOW LEVEL
JET RESPONDING TO DEEPENING LEE LOW CENTRAL PLAINS...PARAMETERS WILL
BECOME FAVORABLE FOR SURFACE BASED SUPERCELLS BY MID AFTERNOON
ACROSS MUCH OF ERN NEB AND INTO WRN IA. AS LOW LEVEL WINDS BACK
ACROSS ERN NEB IN RESPONSE TO PRESSURE FALLS TO THE W...POTENTIAL
FOR TORNADO'S ALONG WITH VERY LARGE HAIL WILL INCREASE BY MID/LATE
AFTERNOON ACROSS ERN NEB...AND INTO WRN IA/NWRN MO BY THIS EVENING.
HAVE UPGRADED TO A MDT MUCH OF ERN NEB/WRN IA FOR THE RISK OF VERY
LARGE HAIL GIVEN THE EXPECTED EXTREME INSTABILITY. BY EVENING SHEAR
PROFILES BECOME INCREASING FAVORABLE FOR TORNADIC SUPERCELLS SERN
NEB/SWRN IA WITH POSSIBLY A STRONG TORNADO.
STORMS EXPECTED TO DEVELOP UPSCALE INTO ONE OR MORE FORWARD
PROPAGATING MCS/S EARLY TONIGHT MOVING EWD ACROSS MID MS VALLEY WITH
AN INCREASING CONCERN FOR DAMAGING WINDS.
...SRN NEW ENGLAND...
THUNDERSTORMS ARE BEGINNING TO INTENSIFY ACROSS SE NY ALONG AN AXIS
OF MODERATE INSTABILITY WHERE OBJECTIVE ANALYSIS SHOWS SBCAPE VALUES
IN THE 1500 TO 2000 J/KG RANGE. THIS MODERATE INSTABILITY EXTENDS
EWD ACROSS MOST OF SRN NEW ENGLAND WHERE SFC DEWPOINTS ARE IN THE
MID 60S F. INCREASING LARGE-SCALE ASCENT ASSOCIATED WITH A SUBTLE
SHORTWAVE TROUGH EVIDENT ON WATER VAPOR IMAGERY SHOULD RESULT IN A
GRADUAL EXPANSION OF CONVECTIVE COVERAGE. THE BOSTON WSR-88D VWP
ESTIMATES 40 KT OF FLOW AT 1 TO 2 KM AGL WHICH COMBINED WITH
INCREASING INSTABILITY AND STEEPENING LOW-LEVEL LAPSE RATES THIS
AFTERNOON SHOULD RESULT IN AN ISOLATED WIND DAMAGE THREAT. HAIL WILL
ALSO BE POSSIBLE ESPECIALLY IF A SUPERCELL CAN ORGANIZE ACROSS THE
ERN PART OF SRN NEW ENGLAND WHERE VERTICAL SHEAR IS STRONGER THAN
AREAS TO THE WEST.
ANY SEVERE THREAT THAT DEVELOPS SHOULD QUICKLY MOVE OFFSHORE BY
EVENING.