Una semana realmente activa van a tener en diferentes zonas (no a la vez) de las planicies centrales, del Oeste y del Este de los Estados Unidos...
Un patrón activo de perturbaciones de onda corta se irán desplazando, a gran velocidad, del Oeste hacia el Este, interactuando con aire cálido y muy inestable y generando varias tardes consecutivas de tiempo severo. Es muy bueno como se ve, por ejemplo, en el día de hoy el prono de tiempo severo sobre las planicies bien al oeste, mañana en ñla franja central y pasado casi en la costa Este, pero cuando llegan a la costa Este ya se observa una nueva onda corta sobre Colorado determinando otra vez tiempo severo en esa zona, el cual hacia el Juevesy Viernes otra vez se mueve hacia el Este con la nueva onda, la cual parece ser un poco más grande que "una onda corta".
En muchos de los casos, esta moderada dinámica (no es súper intensa) interactuará con CAPEs de 3000 a 5000!, lo que tornará más que emocionante la situación, ajajajaja
Les dejo los mapas de tiempo pronosticados para la tarde de hoy (así vamos viendo día a día esto) y despues la discusión que traen para la zona
500 hPa, esta noche: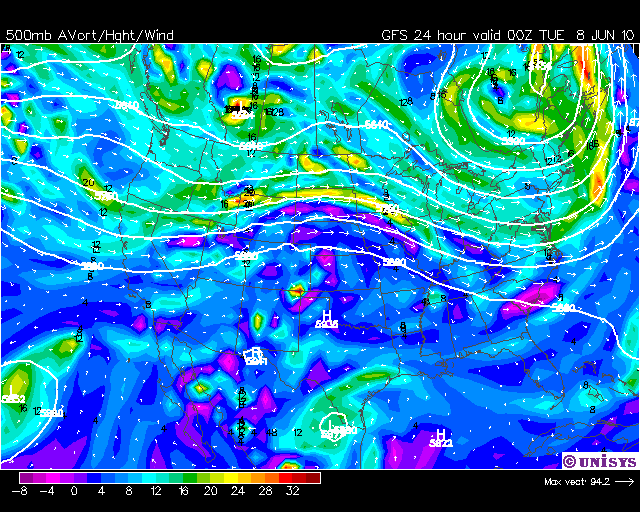 4 Paneles: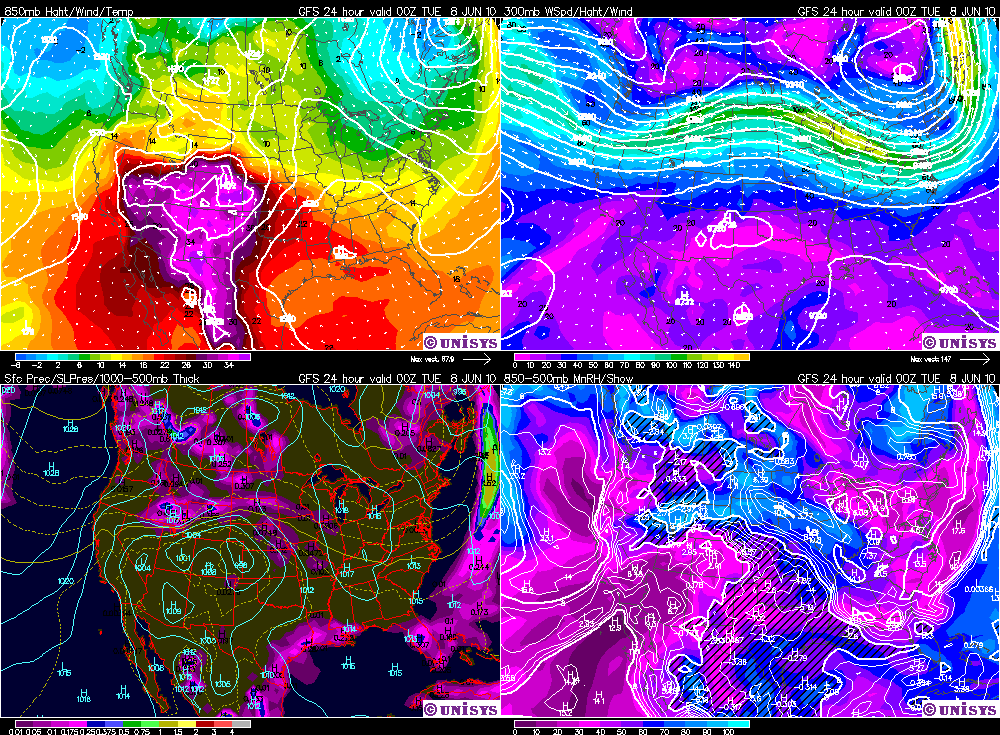 Les dejo la discusión, y a la tarde la seguimos
Day 1 convective outlook
National Weather Service Storm Prediction Center Norman OK
1255 am CDT Monday Jun 07 2010
Valid 071200z - 081200z
..there is a slight risk of severe thunderstorms extending from southern Iowa/northern MO
westward through the Central Plains to southern Wyoming/northern Utah...
...
Guidance remains consistent showing the development of quasi-zonal
middle-upper level flow regime across the northern U.S. As the upper trough
over the eastern states shifts slowly eastward and a progressive trough
tracks from the northern intermountain west to the northern plains. The northern
extent of the upper ridge...currently residing over the northern High
Plains...will shift east toward the upper MS valley with the approach
of the upstream trough. This will result in weak height falls
across the northern/Central Plains.
In the low levels...a surface low is expected to deepen over eastern Colorado
today...and then shift eastward into western Kansas tonight. Meanwhile...an east-west
boundary should become better defined from northern Kansas to northern MO this
forecast period. The Kansas portion may be reinforced by convective
outflow associated with current ongoing thunderstorms in the Central Plains
and/or any additional thunderstorm complexes that could develop over Nebraska
prior to the start of the day 1 period. Farther west...an east-northeast-west-southwest
oriented front is expected to move southward into northern Utah and southern Wyoming late
this afternoon/evening.
..srn and Central High plains eastward to southern Iowa/northern MO...
Thunderstorms are expected to be ongoing at 12z today across parts of the
Central Plains within warm air advection regime along nose of nocturnal south-southwesterly low level jet.
Some of this early morning activity may be severe given eastern extent
of steep midlevel lapse rates...moderate instability and strong
effective bulk shear. Eventual weakening of the low level jet this morning
should support a decreasing trend in storm intensity/coverage with
this ongoing activity shifting east/southeastward across the eastern portion of the
Central Plains and middle-lower MO valley.
The elevated mixed layer is expected to progress farther east-northeastward
across the Central Plains today and should effectively cap much of
this region from having afternoon thunderstorm development. Meanwhile...new
thunderstorm development is expected to occur this afternoon farther to the
west over eastern Colorado/southeastern Wyoming within Ely moist upslope flow regime north of the
Colorado surface low. A moderate-very unstable air mass /MLCAPE 2000-3000
j per kg/ and 50 knots of effective bulk shear indicate these storms
should quickly become supercells with an attendant threat for
isolated tornadoes... hail...some very large...and damaging winds.
A broad south-southwesterly low level jet is expected to redevelop from West Texas/OK into Kansas this
evening with speeds increasing to 50 knots by late evening. Although
the cap is expected to limit thunderstorm development eastward across northern Kansas and
Nebraska during the afternoon...an increase in low level warm air advection along and north
of this east-west boundary should support new thunderstorm development by early
evening and continue through the overnight period. The
strengthening low level jet will increase hodograph curvature for a tornado
threat extending eastward through northern KS/neb...especially in the vicinity
of the surface front where surface winds will be locally backed
further increasing directional shear.Additional threats will include
hail...some very large across far northern Kansas/southern Nebraska where very strong
instability and steep lapse rates are expected by late afternoon.
Thunderstorms should grow upscale into a forward propagating mesoscale convective system spreading
eastward across the Central Plains to southern Iowa and northern MO into early
Tuesday morning. Hail and damaging winds should be the primary
threats with the overnight activity.
..nrn Utah to southern Wyoming...
Slight risk has been introduced from southern Wyoming/northwestern Colorado into northern Utah.
Surface dewpoints in the upper 40s-lower 50s...surface heating and
northern extent of steep midlevel lapse rates are expected to result in
MLCAPE values up to 1000 j/kg by this afternoon. Thunderstorms are expected
to develop along and ahead of the southward moving baroclinic zone. This
activity has the potential to be severe into the evening...given the
available instability and 50 knots of effective shear.
...
Primarily diurnal thunderstorms are expected to develop this afternoon along
the higher terrain and within low level convergence zone extending
generally north-S through central nm. This activity will be supported
by moderate instability and steep lapse rates. Weak deep layer
shear suggests activity will be pulse and outflow dominant with
isolated damaging winds the primary threat.