Acá vamos de nuevo
Greg:
todavía mantiene su intensidad y el satélite muestra cierta convección, lo cual se debe a que este sistema se está moviendo en un ambiente con baja cortante y temperaturas de mar no tan desfavorables (27 grados). De todas maneras, se espera que en 24 horas empiece a moverse sobre SSTs de 26 grados, lo cual junto a un incremento de la cortante en las siguientes 36-48 horas hará que Greg se vaya debilitando gradualmente, para convertirse en una baja remanente en más o menos 72 horas.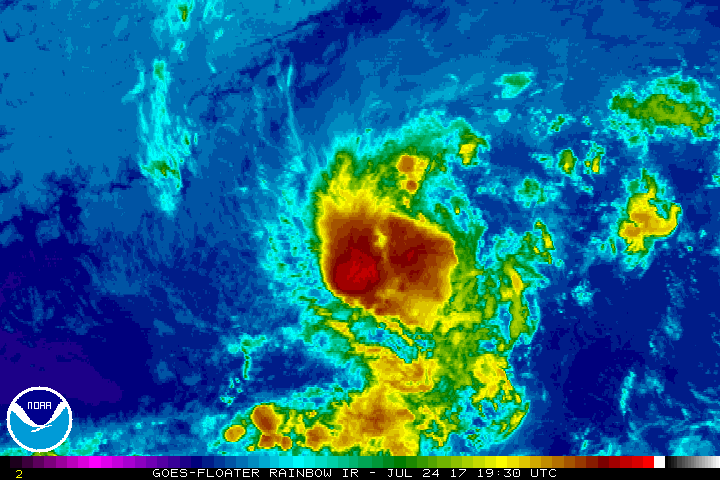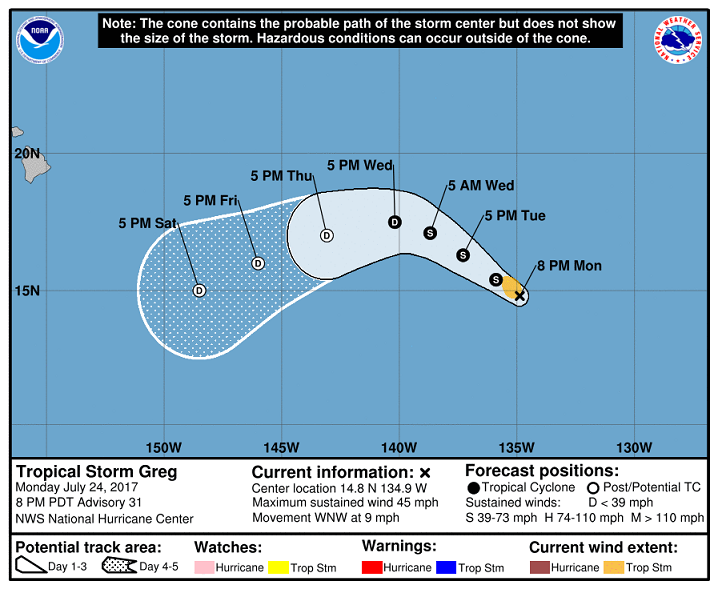 Spoiler

000
WTPZ42 KNHC 250233
TCDEP2

Tropical Storm Greg Discussion Number 31
NWS National Hurricane Center Miami FL EP072017
800 PM PDT Mon Jul 24 2017

The cloud pattern of Greg has changed little during the last
several hours. The low-level center of the storm remains covered
up by an area of deep convection that has increased in intensity
during the past few hours. The latest Dvorak classifications
are largely unchanged from earlier, and the initial wind speed
estimate remains 40 kt for this advisory. This intensity estimate
is also in fairly close agreement with the earlier scatterometer
data.

Greg has made the expected turn to the west-northwest on the south
side of a low- to mid-level ridge. The models suggest that Greg
should move west-northwestward to northwestward during the
next couple of days as the ridge to the north of the system weakens
a little. A turn to the west and then west-southwest is expected in
2 to 3 days when Greg becomes a shallow system and is steered by the
low-level trade wind flow. The NHC track forecast is a tad to the
north of the previous one, trending toward the latest model
consensus aids.

The tropical storm is still over relatively warm 27 deg C waters
and in a low wind shear environment. The environment along the
projected path of Greg is expected to become hostile during
the next couple of days, with the cyclone forecast to move into a
progressively drier air mass and over waters cooler than 26 deg C
beginning in about 24 h. In addition, a significant increase in
northwesterly wind shear is expected to begin in 36 to 48 h. These
unfavorable conditions should cause a steady weakening trend, and
Greg is forecast to become a remnant low by 72 h. The NHC intensity
forecast is identical to the previous one and in line with the bulk
of the model guidance.

FORECAST POSITIONS AND MAX WINDS

INIT 25/0300Z 14.8N 134.9W 40 KT 45 MPH
12H 25/1200Z 15.4N 135.9W 35 KT 40 MPH
24H 26/0000Z 16.3N 137.3W 35 KT 40 MPH
36H 26/1200Z 17.1N 138.7W 35 KT 40 MPH
48H 27/0000Z 17.5N 140.2W 30 KT 35 MPH
72H 28/0000Z 17.0N 143.1W 25 KT 30 MPH...POST-TROP/REMNT LOW
96H 29/0000Z 16.0N 146.0W 20 KT 25 MPH...POST-TROP/REMNT LOW
120H 30/0000Z 15.0N 148.5W 20 KT 25 MPH...POST-TROP/REMNT LOW

$$
Forecaster Cangialosi
Irwin:
a pesar de que lo estuvo molestando cierta cortante, se ha ido intensificando y mejorando estructuralmente a lo largo del día, con convección profunda en su centro. Actualmente tiene un rumbo oeste-noroeste, el cual podría cambiar a oeste-sudoeste entre las próximas 24 a 72 horas a medida que Hilary se le vaya acercando.
El escenario sobre una posible interacción con Hilary sigue siendo incierto: modelos como UKMET, Europa y ahora también el GFS muestran a este sistema orbitando alrededor de Hilary, para luego ser absorbida por ella. Luego, el CMC muestra interacción entre estos sistemas, pero manteniéndose separados. Por último, modelos como el HWRF y el HMON no plantean ningún tipo de interacción entre ambos.
Volviendo a Irwin, el ambiente le es favorable para seguir intensificándose un poco más, pudiendo alcanzar la fuerza de huracán durante el día de mañana. Luego empezaría a ser afectado por el 'outflow' de Hilary y a desplazarse sobre aguas más frías, llevando a su debilitamiento.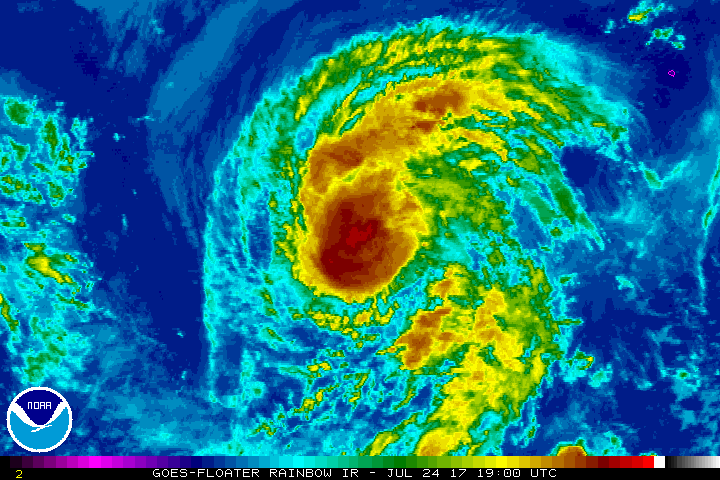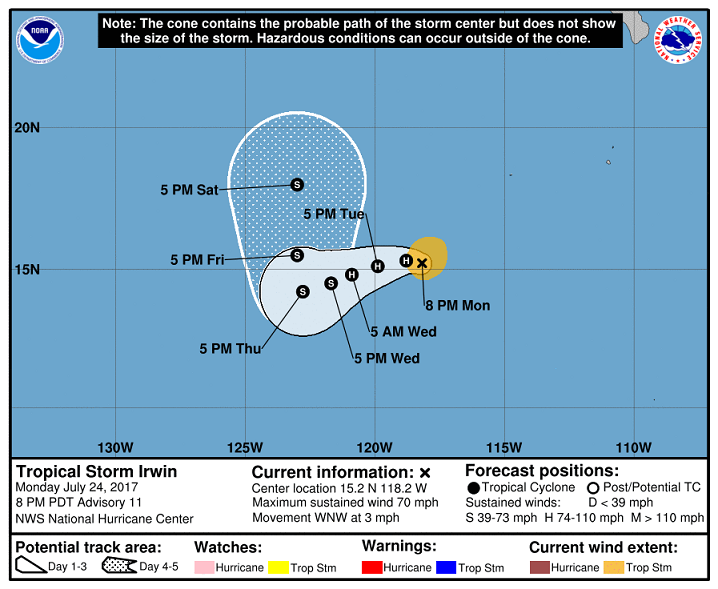 Spoiler

000

WTPZ45 KNHC 250235

TCDEP5

Tropical Storm Irwin Discussion Number 11

NWS National Hurricane Center Miami FL EP102017

800 PM PDT Mon Jul 24 2017

Irwin has been gradually strengthening throughout the day

. Satellite

images show that deep convection has been persisting over the center

and in fragmented curved bands, especially over the south and west

portions of the circulation.

Microwave images indicate that the
system is vertically titled from south to north, likely due to
southerly shear.

The latest Dvorak CI numbers are 3.5/55 kt from

TAFB and 4.0/65 kt from SAB. These estimates and higher ADT values

from CIMSS at the University of Wisconsin support increasing the

initial intensity to 60 kt.

Irwin is crawling west-northwestward, with the initial motion

estimated to be 285/3 kt. A slow westward to west-northwestward

motion is forecast through early Tuesday as a weak mid-level ridge

remains in place to the north of the storm.

A west-southwestward
motion is expected between 24 and 72 h as Hurricane Hilary
approaches from the east.

Beyond that time, the track forecast is

very challenging as the models remain quite divergent with the

spread being more than 700 n mi at day 5.

The UKMET, ECMWF, and GFS
global models show Irwin rotating around the east side of the
circulation of Hilary and ultimately merging with that hurricane.
The CMC model shows some binary interaction between the tropical
cyclones, but keeps the systems separate, and the regional hurricane
models HWRF and HMON show no interaction between the systems and
continue to move Irwin westward.

The NHC track forecast favors the

global models and shows a slow northward motion on days 4 and 5.

Needless to say, the long range track forecast is of low confidence.

The environmental conditions should support some additional
strengthening during the next day or so, and Irwin is expected to
become a hurricane tonight or on Tuesday. Thereafter, an increase
in vertical wind shear, associated with the outflow of Hilary, and
slightly cooler waters along the forecast track should cause a
gradual weakening trend

. The NHC intensity forecast is similar to

the previous one and in fair agreement with the consensus models.

FORECAST POSITIONS AND MAX WINDS

INIT 25/0300Z 15.2N 118.2W 60 KT 70 MPH

12H 25/1200Z 15.3N 118.8W 65 KT 75 MPH

24H 26/0000Z 15.1N 119.9W 70 KT 80 MPH

36H 26/1200Z 14.8N 120.9W 65 KT 75 MPH

48H 27/0000Z 14.5N 121.7W 60 KT 70 MPH

72H 28/0000Z 14.2N 122.8W 55 KT 65 MPH

96H 29/0000Z 15.5N 123.0W 55 KT 65 MPH

120H 30/0000Z 18.0N 123.0W 50 KT 60 MPH

$$

Forecaster Cangialosi
Hilary:
el más interesante. Recién ascendido a categoría 2, muestra una convección muy profunda en su centro y una mejor organización, e incluso satélites han detectado la existencia de un ojo muy pequeño (< 10 millas náuticas de diámetro).
Hilary ha sido un poco molestada por una modesta cortante en niveles altos, al parecer causados por un complejo convectivo relativamente adyacente a ella. Sin embargo, este complejo ya ha mostrado signos de debilitamiento, por lo cual su influencia ya debería disminuir.
Su muy buena organización y un ambiente altamente favorable podría hacer entrar a Hilary en una intensificación rápida dentro de las 12 a 24 horas. Luego de esto, algunas fluctuaciones en intensidad son posibles si el sistema sufre cambios en su ojo o estructura interna. Por último, más allá de las 72 horas el sistema empezaría a debilitarse a medida que se mueva sobre aguas más frías y un ambiente sobre mayor cortante.
También cabe aclarar que si llegara a interactuar con Irwin, Hilary sería el sistema dominante y terminaría absorbiéndolo, pero como ya mencioné, sigue siendo un panorama bastante incierto.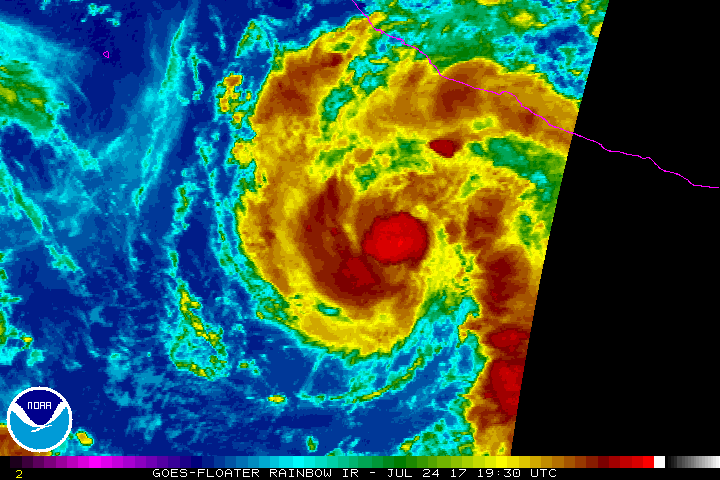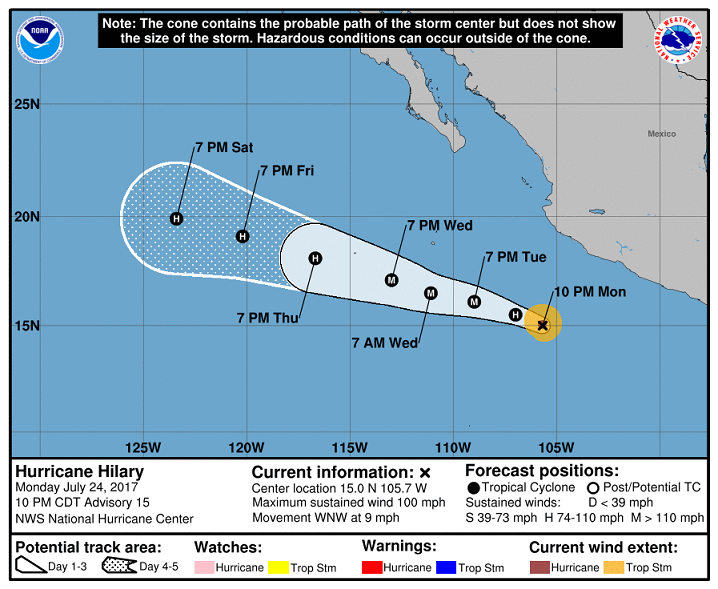 Spoiler

000
WTPZ44 KNHC 250235
TCDEP4

Hurricane Hilary Discussion Number 15
NWS National Hurricane Center Miami FL EP092017
1000 PM CDT Mon Jul 24 2017

Recent microwave satellite images indicate that Hilary has developed
a tight banding eye feature with a diameter of less than 10 nmi.
Deep convection with cloud tops to -85C within an elongated CDO has
continued to pulse since the previous advisory, likely due to some
modest high-level shear induced by a large convective complex
located a couple hundred nmi southeast of Hilary's center. However,
that convective cloud mass has recently been showing signs of
waning, so that negative influence will likely begin to abate fairly
soon. Dvorak satellite intensity estimates were a consensus T4.5/77
kt from TAFB and SAB at 0000Z. Since that time, the CDO has become
more distinct and NHC objective intensity estimates have been
ranging between 82-88 kt during the past 2 hours. As a result, the
advisory intensity has been increased to 85 kt.

The initial motion estimate is 300/08 kt. Hilary is forecast to
move generally west-northwestward along the southern periphery of a
deep-layer subtropical ridge for the next 5 days. With the exception
of the more northerly GFS model -- which had a similar poleward bias
with Fernanda -- the rest of the NHC model guidance is tightly
clustered around the previous forecast track. As a result, only
minor speed adjustments were made to the previous forecast track.
Although some binary interaction with TS Irwin is still possible,
Hilary is expected to be the larger and more dominant circulation,
resulting in Irwin being pulled poleward within Hilary's wake on
days 3-5.

The small eye and tight inner-core banding features noted in recent
microwave imagery, along with large-scale low vertical wind shear
conditions and favorable thermodynamics, argues for some rapid
intensification to occur during the next 12-24 hours. Thereafter,
some adjustment of the eye and inner-core wind field is possible,
which has resulted in a leveling off of Hilary's intensity forecast
in the 24-to 48-h period. By 72 hours and beyond, the combination
of decreasing SSTs to less than 26C along with some modest westerly
wind shear should produce steady weakening. The official intensity
forecast is similar to the previous advisory, and follows a blend of
the HCCA and ECMWF intensity predictions.

FORECAST POSITIONS AND MAX WINDS

INIT 25/0300Z 15.0N 105.7W 85 KT 100 MPH
12H 25/1200Z 15.5N 107.0W 95 KT 110 MPH
24H 26/0000Z 16.1N 109.0W 105 KT 120 MPH
36H 26/1200Z 16.5N 111.1W 105 KT 120 MPH
48H 27/0000Z 17.1N 113.0W 100 KT 115 MPH
72H 28/0000Z 18.1N 116.7W 90 KT 105 MPH
96H 29/0000Z 19.1N 120.2W 80 KT 90 MPH
120H 30/0000Z 19.9N 123.4W 65 KT 75 MPH

$$
Forecaster Stewart