El mismo sistema que provoco tiempo severo ayer entre Oklahoma y Texas, ya puso rumbo al este y va a afectar a zonas del sur de los Estados Unidos.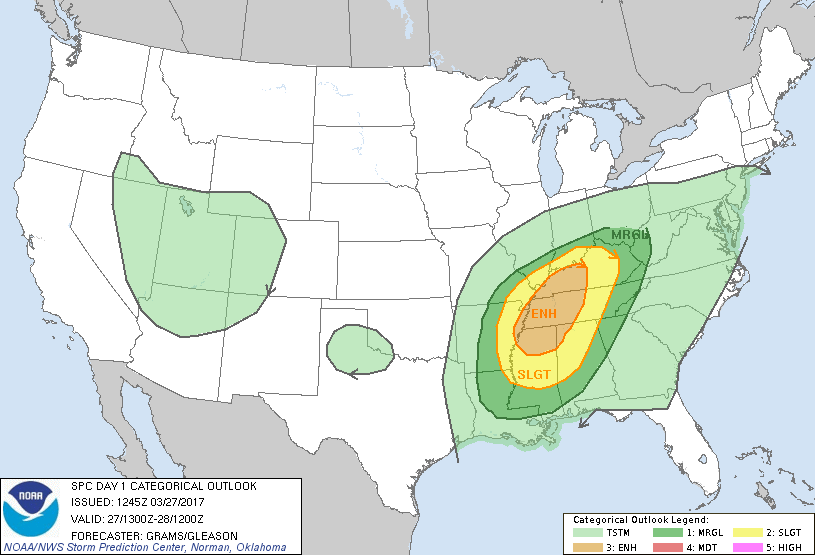 % de tornado.
Spoiler
% de vientos de hasta 50 kt o mayores a 25 millas de un punto.
Spoiler
% de granizos de entre una o dos pulgadas de diametro a 25 millas de un punto.
Spoiler
Discusion:
Spoiler

Day 1 Convective Outlook
NWS Storm Prediction Center Norman OK
0745 AM CDT Mon Mar 27 2017

Valid 271300Z - 281200Z

...THERE IS AN ENHANCED RISK OF SEVERE THUNDERSTORMS MID-SOUTH TO
CENTRAL KY/MIDDLE TN...

...THERE IS A SLIGHT RISK OF SEVERE THUNDERSTORMS LOWER OH VALLEY TO
CENTRAL MS/AL...

...THERE IS A MARGINAL RISK OF SEVERE THUNDERSTORMS MIDDLE OH VALLEY
TO LOWER MS VALLEY...

...SUMMARY...
Scattered to numerous severe thunderstorms are expected across the
Lower Mississippi and Ohio Valleys into the Tennessee Valley this
afternoon and evening. Very large hail, damaging winds, and a couple
tornadoes will be possible.

...Synopsis...
A shortwave trough along the KS/MO border will move east to the
Cumberland Plateau by early Tuesday. Attendant surface cyclone will
track from the Ozark Plateau into the Middle OH Valley, weakening
late in the period. A cold front will shift east across the
Mid-South this afternoon with trailing portion stalling tonight over
the Lower MS Valley.

...Lower MS/OH and TN Valleys...
Two storm clusters are ongoing across southern IL/western KY and
separately over northwest AR. The 27/00Z WRF-NSSL and HRW-ARW appear
to have the best reflection of these clusters compared to other
CAMs. The eastern cluster should slow destabilization north of the
OH River today where surface dew points are predominately in the 40s
as of 12Z. Meanwhile, low-level moisture will continue to advect
northeast ahead of the northwest AR cluster into the Mid-South
within a broad 30-40 kt LLJ. This should result in a plume of lower
60s surface dew points nosing towards the MS/OH River confluence,
with middle 60s maintained across the Lower MS Valley. The
increasing moisture coupled with diurnal destabilization will likely
result in MLCAPE of 1000-2000 J/kg developing by mid afternoon.
Low-level WAA ahead of the AR cluster in conjunction with
convergence along the impinging cold front should serve as a focus
for increasing afternoon storm development.

With effective shear magnitudes of 35-45 kt, several supercells are
anticipated, especially with southern extent in the open warm
sector. Large hail, a couple tornadoes, and isolated damaging winds
are most probable with this activity centered on the Mid-South. Some
of the hail may be significantly severe owing to steep mid-level
lapse rates sampled by 12Z Jackson, Shreveport, and Little Rock
RAOBs. A few of these supercells will likely organize into one or
more east-moving line segments axis, with damaging winds becoming
the predominant hazard towards middle TN/central KY/northwest AL.

Farther south into central portions of MS/AL, weak 500-mb height
falls during the day coupled with heating and weakening convective
inhibition should result in at least isolated storms developing
within confluence bands in the absence of any well-defined boundary.
A risk for hail and wind damage should accompany the stronger
storms.

..Grams/Gleason.. 03/27/2017
Se actualiza de vuelta a las 16:30z.