Actualizacion del convective outlook.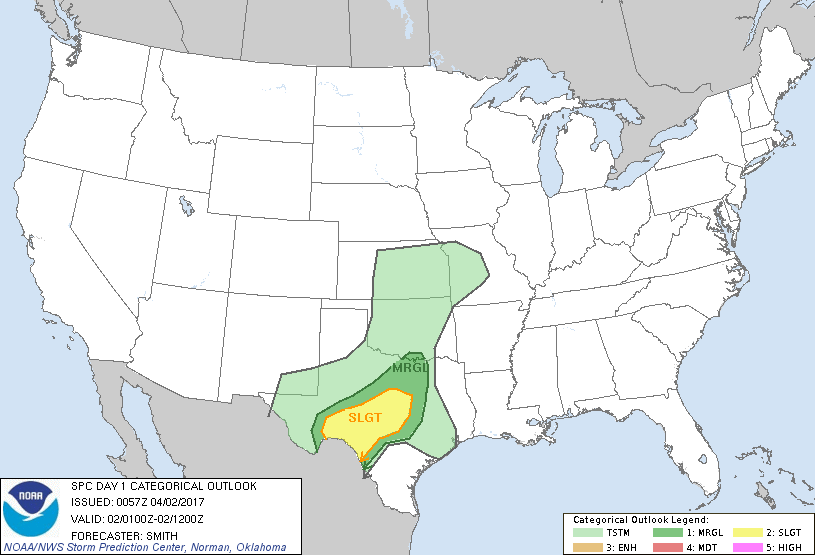 % de tornados.
Spoiler
% de vientos.
Spoiler
% de granizo.
Spoiler
Discusion:
Spoiler

Day 1 Convective Outlook
NWS Storm Prediction Center Norman OK
0757 PM CDT Sat Apr 01 2017

Valid 020100Z - 021200Z

...THERE IS A SLIGHT RISK OF SEVERE THUNDERSTORMS FOR PARTS OF
CENTRAL AND SOUTHWEST TEXAS...

...THERE IS A MARGINAL RISK OF SEVERE THUNDERSTORMS SURROUNDING THE
SLIGHT RISK AND INCLUDING NORTH-CENTRAL TEXAS...

...SUMMARY...
Large hail, damaging winds, and a tornado will be possible this
evening and overnight across central Texas into parts of southwest
Texas.

...TX...
Satellite imagery Saturday evening shows a closed mid- to
upper-level low over the Desert Southwest and a mid-level vorticity
maximum located over northwest Mexico. The vorticity maximum is
forecast to move through the base of the larger-scale trough and
reach the TX Big Bend region by early morning Sunday. Evening
subjective surface analysis indicates a wavy cold front is draped
from south-central OK into the Big Bend area. During the evening
hours, a couple of isolated strong to severe storms are forecast
across central TX and perhaps as far north as the Red River. Large
hail and localized severe gusts are the main hazards. Beginning
later this evening through the end of the Day 1 period,
strengthening large-scale ascent will spread east across northern
Mexico and into TX. Meanwhile in the low levels, southeasterly flow
will advect richer moisture into the Hill Country and southern
portion of the Edwards Plateau. Forecast soundings show strong
shear profiles supportive of organized storms. Early in the
convective life cycle, supercells will be favored and an
accompanying risk for large to very large hail and severe gusts.
Although a weak inversion will likely persist, enlarging hodographs
in the warm sector near the boundary may prove favorable for
low-level mesocyclones and a tornado threat. During the 08-12z
period, it seems likely additional intense storms will develop and
grow upscale into an expanding thunderstorm cluster and result in a
corresponding increase in the risk for severe gusts, in addition to
large hail.

..Smith.. 04/02/2017
Proxima actualizacion: 06:00z.
Ezequiel95 escribió:Ojala algún dia seamos asi aca!
Muy bueno el seguimiento que estas haciendo!
Siempre que sea posible, voy a estar haciendolo. Espero ver los resultados reflejados a fin de año