Una vaguada, entre débil y moderada, se irá desplazand muy lentamente sobre las planicies centrales de Estados Unidos en los próximos días, interactuando con humedad y con enorme inestabilidad en la zona.
A las tormentas de los últimos días en la región se le van a sumar algunas condiciones dinámicas que generarán un aumento en la probabilidad de tiempo severo. Vientos en 500 hPa de hasta 40 nudos, en 250 hPa de hasta 80 nudos y por momentos la presencia de un jet de capas bajas, de hasta 35/40 nudos, interactuando con CAPEs máximos de hasta 3000 J/Kg, o más, generarán tardes interesantes con posibilidad de superceldas asociadas con granizo muy grande y algunos tornados.
Les dejo los mapas para el día de hoy (mañana los de maána y asi...) y las discusiones, por supuesto, de ellos!
500 hPa, Martes a la noche: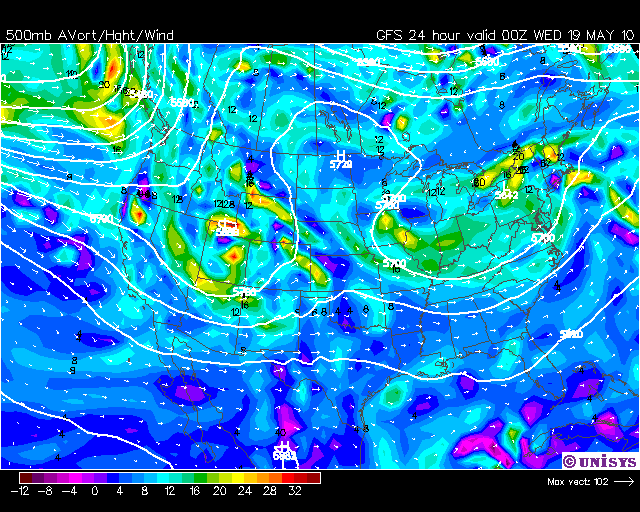 4 paneles, Martes a la noche: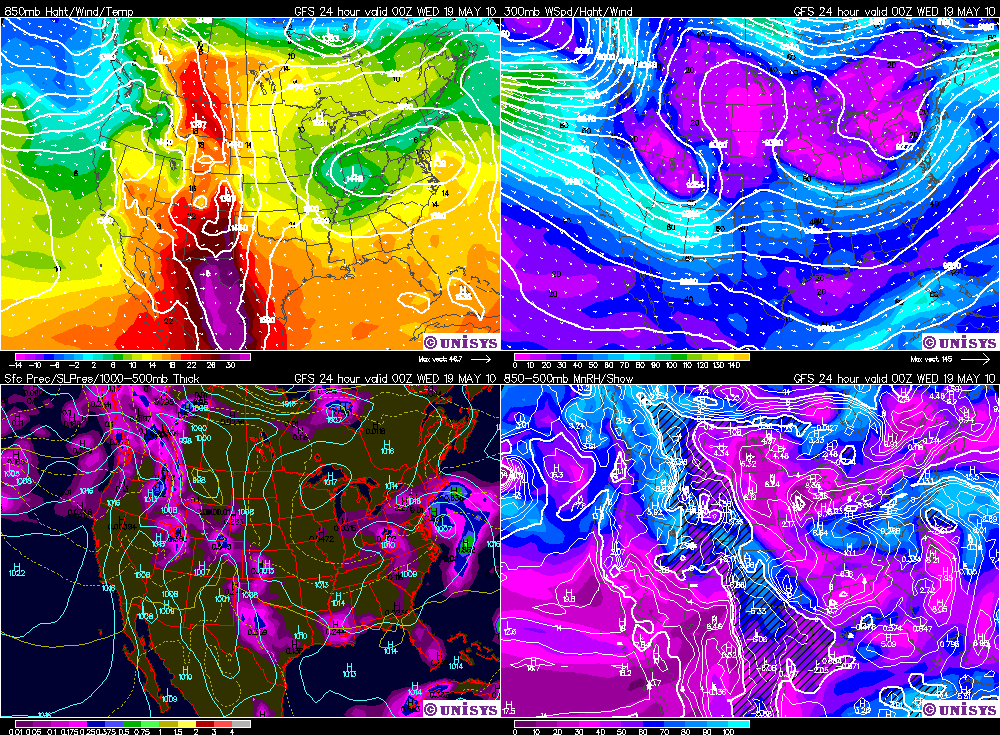 Noten que el Este de Colorado y ese rinconcito (de luz
) del oeste de Texas tienen la presencia de inestabilidad y algo de cortante, y con la línea seca que va a andar a la tarde en la zona, pueden haber algunas superceldas tornádicas, así que ya veremos...
Les dejo la discu!
Day 1 convective outlook
National Weather Service Storm Prediction Center Norman OK
1259 am CDT Tuesday may 18 2010
Valid 181200z - 191200z
..there is a slight risk of severe thunderstorms across the central/southern
High Plains...
...
Split upper flow regime will remain over North America during the
period. Largely cut-off upper low currently over the Ohio River valley
will continue to weaken/migrate east-northeastward...while a
southern stream shortwave trough currently over California/Nevada advances
eastward over The Four Corners vicinity today...and the
south-Central High plains late tonight.
At the surface...in response to upstream height falls...Lee
cyclogenesis will favor a more prominent low level upslope regime
across a broad-north south extent of The Rockies Front Range/High
Plains...while a convectively modified frontal zone otherwise
retreats northward across Texas. In the east...a cold
front/occlusionary frontal zone will remain a focus for
showers/thunderstorms across portions of the southeast states/Carolinas.
..central/southern High Plains to south Texas...
Multiple mesoscale convective system/S will likely be ongoing at the beginning of the period
this morning across northwest Texas/perhaps adjacent OK...as well as
south Texas. A few severe thunderstorms may remain possible early this morning
in association with this activity.
Later this afternoon...leading brunt of large scale height falls and
strengthening/diffluent flow aloft...combined with surface
cyclogenesis across eastern nm/southeast Colorado and north-northwest-Ward moisture
return...will lead to an appreciable severe potential across the
central/southern High Plains. Strong/severe thunderstorms should increase
through mid/afternoon...via moist southeasterly upslope and
differential heating along the eastern Colorado/northeast nm higher
terrain...as well as the north-south extent of the dryline across
far eastern nm/far West Texas. Very steep lapse rates/moderate
instability and strong vertical shear/veering wind profiles will be
more than adequate for supercellular development...with large hail
and some tornadoes especially during the late afternoon/early
evening hours across southeast Colorado/far eastern nm and much of West
Texas. With a moderate low level jet expected to increase during the
evening...the relatively greatest tornado threat may exist across
portions of the Texas Panhandle/adjacent Texas South Plains in vicinity of
a surface low/warm front/dryline /and perhaps convective outflow/
focused triple point.
Otherwise...the nocturnally increasing/moderately strong southerly
low level jet should contribute to the organization/sustenance of
one or more southeast moving mesoscale convective system/S tonight...with continued bouts of
severe hail along with the possibility of an increasing damaging
wind threat during the evening /most probable across northwest Texas
and perhaps adjacent western OK/.
..Mt and adjacent northern High Plains...
Boundary layer moisture /mainly 40s f surface dewpoints/ will
increase across the High Plains of Montana today as Lee side
cyclogenesis/troughing occurs. With thunderstorms expected to increase
during the afternoon owing to one or middle level
disturbances/orographic forcing...steep lapse rates and as much as
500-1000 j/kg of SBCAPE /highest across southeast Montana/ will
contribute to a favorable environment for some strong/severe
thunderstorms...with hail the primary hazard.
...
Slight cooling aloft in association with cyclonic middle/upper flow
will contribute to favorable thermodynamic profiles for isolated
strong/severe thunderstorms this afternoon. A few downbursts/marginally
severe hail will be possible mainly across the eastern portions of
the Florida Peninsula.
.Guyer/Rogers.. 05/18/2010