bueno che... ahora si ... la cosa es es modera jajajaa
para el Extremo norte de Missouri, SE Iowa, Centro Norte de Indiana e Illinois y el NO de Ohi...
para esas zonas el riesgo sera moderado....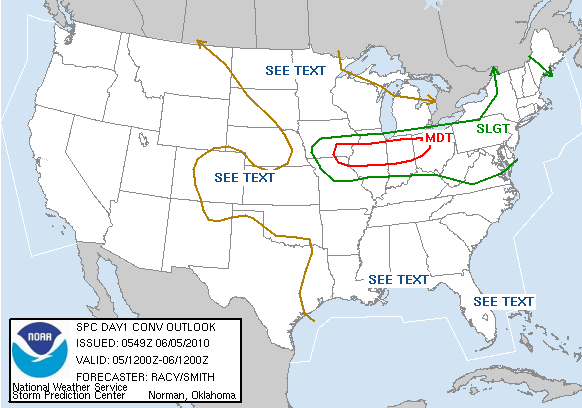 probabilidad de ocurriencia de tornados...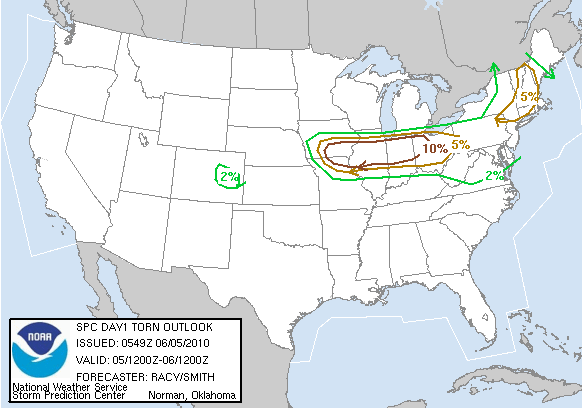 Probabilidad de caida de granizo..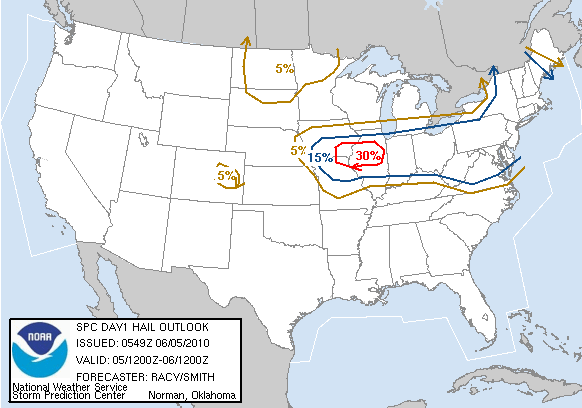 Probabilidad de Fuertes vientos..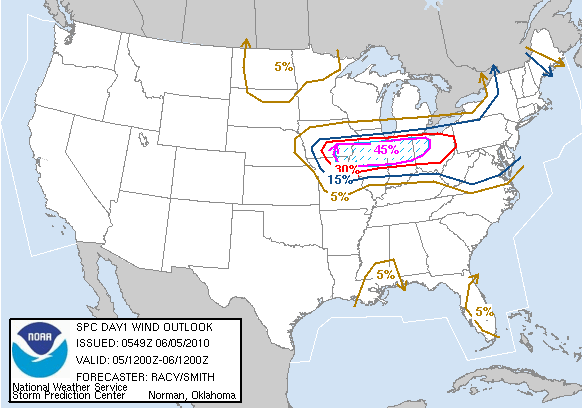 DAY 1 CONVECTIVE OUTLOOK
NWS STORM PREDICTION CENTER NORMAN OK
1249 AM CDT SAT JUN 05 2010
VALID 051200Z - 061200Z
...THERE IS A MDT RISK OF SVR TSTMS IN EXTREME SE IA...EXTREME NE
MO...NRN/CNTRL PARTS OF IL/IND AND NW OH...
...THERE IS A SLGT RISK OF SVR TSTMS FROM THE NERN/MID-ATLANTIC
STATES TO THE MID/UPPER MS VALLEY...
...SYNOPSIS...
FAST ZONAL FLOW OVER THE NRN-HALF OF THE COUNTRY WILL BUCKLE OVER
THE UPPER MS VALLEY BY SATURDAY NIGHT AS A STRONG JET STREAK
TRANSLATES RAPIDLY EWD FROM THE NRN ROCKIES. TO THE SOUTH...AN
ELONGATING UPPER LOW OVER THE CNTRL/WRN GULF STATES WILL REMAIN IN
PLACE.
...UPPER MS VLY EWD ACROSS THE MIDWEST/UPPER OH VALLEY...
A WEAK IMPULSE MOVING EWD ACROSS THE CORN BELT EARLY THIS MORNING
WAS ENHANCING THUNDERSTORMS AND CLUSTERS OF STORMS WILL BE ONGOING
AT 12Z OVER PARTS OF IA AND NRN IL. MAINTENANCE OF ROUGHLY 40-45 KT
OF UNIDIRECTIONAL WSW MID-LEVEL FLOW ATTENDANT TO THIS IMPULSE AND
STRONG HEATING OF AN AMPLY MOIST BOUNDARY LAYER WILL LIKELY
CONTRIBUTE TO A CONTINUED SEVERE RISK ACROSS CNTRL/NRN PARTS OF
IND/OH THROUGH THE AFTERNOON.
ATTENTION WILL THEN FOCUS UPSTREAM DURING THE MID-LATE AFTERNOON
AHEAD OF THE AMPLIFYING UPPER TROUGH AND RECOVERING AIR MASS IN WAKE
OF MORNING STORMS. SURFACE DEW POINTS IN EXCESS OF 70F...PRESENCE
OF 50-55 KTS OF DEEP LAYER SHEAR...INCREASING LARGE SCALE ASCENT AND
REBOUNDING MID-LEVEL LAPSE RATES WILL FOSTER SUPERCELLS AS ACTIVITY
INITIATES OVER CNTRL/ERN IA. LARGE HAIL AND A FEW TORNADOES ARE
LIKELY. AS WLY FLOW INCREASES ALONG THE BASE OF THE
TROUGH...ACTIVITY WILL TRANSITION INTO A BOWING MESOSCALE SYSTEM
WITH EMBEDDED SUPERCELLS AND ACCELERATE DOWNSTREAM INTO CNTRL/NRN
IL...CNTRL/NRN IND AND POSSIBLY PARTS OF NWRN OH ALONG/S OF AN E-W
ORIENTED BAROCLINIC ZONE BY EVENING. ALL FACETS OF SEVERE WEATHER
CAN BE ANTICIPATED WITH VERY STRONG DAMAGING WIND GUSTS...LARGE HAIL
AND A FEW TORNADOES.
WHILE LEADING STORMS WILL FORWARD-PROPAGATE INTO THE UPPER OH VALLEY
OVERNIGHT...THERMODYNAMIC/KINEMATIC SET-UP WILL FAVOR BACKBUILDING
STORMS ALONG THE SURGING COLD FRONT/OUTFLOW INTO NERN MO AND CNTRL
IL OVERNIGHT WITH AT LEAST ISOLATED RISKS FOR HIGH WINDS/HAIL.
...NERN STATES...
CONSIDERABLE CONVECTION WILL MOVE ACROSS THE NERN STATES EARLY
SATURDAY BUT WILL PROBABLY CLEAR THE REGION IN TIME FOR AFTERNOON
HEATING. MOIST BOUNDARY LAYER AND ANTICIPATED HEATING WILL
CONTRIBUTE TO MLCAPES AROUND 1000-1500 J/KG. AS THE IMPULSE OVER
THE GREAT LAKES REGION MOVES OVER THE REGION BY LATE
AFTERNOON...WIDELY SCATTERED THUNDERSTORMS WILL DEVELOP OVER ERN
NY/WRN NEW ENGLAND. ENVIRONMENT WILL BE STRONGLY SHEARED WITH 55
KTS OF 0-6KM SHEAR AND BRIEF SUPERCELLS MAY RESULT WITH LARGE HAIL
AND ISOLATED TORNADOES. ACTIVITY WILL MOVE TOWARD THE COAST DURING
THE EVENING WITH RISKS FOR PRIMARILY DAMAGING WINDS.
...MID-ATLANTIC...
AT LEAST ISOLATED...DIURNALLY-ENHANCED THUNDERSTORMS WILL DEVELOP
ALONG THE LEE TROUGH/HIGHER TERRAIN OF SERN PA AND WRN MD/VA ON
SATURDAY. REGION WILL REMAIN ALONG SRN PERIPHERY OF 30-40 KTS OF
WLY MID-LEVEL FLOW...FAVORABLE FOR MULTICELL STORMS CAPABLE OF
DAMAGING WINDS/HAIL.
...ERN CO...
ISOLATED THUNDERSTORMS WILL FORM ALONG THE HIGHER CO TERRAIN AS ENE
UPSLOPE FLOW TRANSPORTS IMPROVING LOW-LEVEL MOISTURE ACROSS THE HIGH
PLAINS BEHIND A COLD FRONT. AN ISOLATED HIGH-BASED SUPERCELL STORMS
WITH LARGE HAIL/LANDSPOUT WILL BE POSSIBLE IN THE VICINITY OF THE
PALMER DIVIDE...DIMINISHING DURING THE EVENING.
...NRN PLAINS...
A FEW STRONG/ISOLATED SEVERE THUNDERSTORMS CAN BE EXPECTED SATURDAY
AFTERNOON/EVENING AS MID-LEVEL COLD POCKET ASSOCIATED WITH THE
AMPLIFYING TROUGH SPREADS ATOP RESIDUAL 50S SURFACE DEW POINTS.
PRIMARY THREAT WILL BE MARGINALLY SEVERE HAIL AND SHOULD DIMINISH
AFTER SUNSET.
...FL...
ANOTHER ROUND OF THUNDERSTORMS WILL DEVELOP ALONG SEA
BREEZES...FAVORING THE INTERIOR AND EAST COAST. FORECAST SOUNDINGS
EXHIBIT COMPARATIVELY DRIER MID-LEVEL ENVIRONMENT OVER FRIDAY. THIS
MAY YIELD AT LEAST ISOLATED PULSE SEVERE STORMS WITH DAMAGING WIND
GUSTS.
..RACY/SMITH.. 06/05/2010