T-R-E-M-E-N-D-O
Encima mandaron un nuevo Tornado Watch!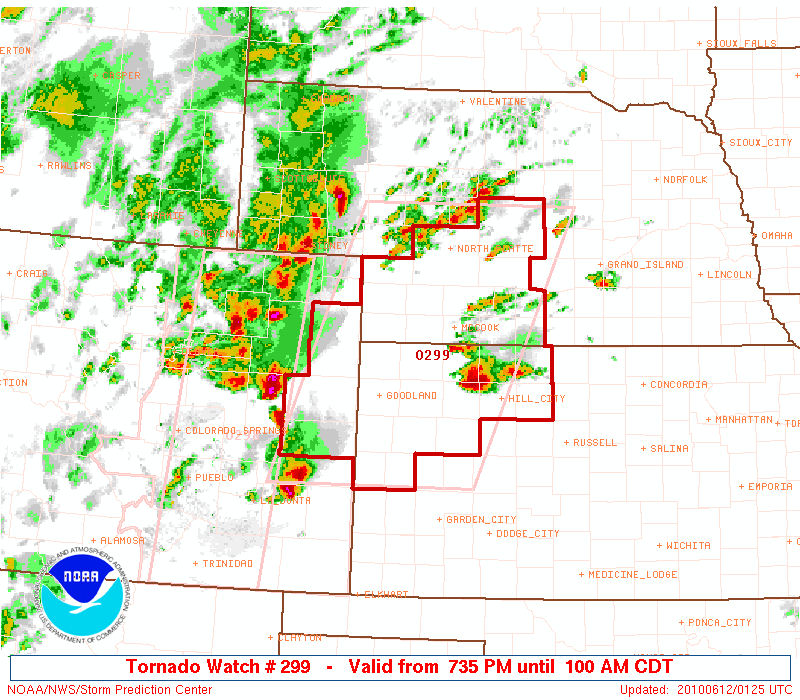 URGENT - IMMEDIATE BROADCAST REQUESTED
TORNADO WATCH NUMBER 299
NWS STORM PREDICTION CENTER NORMAN OK
735 PM CDT FRI JUN 11 2010
THE NWS STORM PREDICTION CENTER HAS ISSUED A
TORNADO WATCH FOR PORTIONS OF
PARTS OF EASTERN COLORADO
PARTS OF NORTHWEST KANSAS
SOUTHWEST NEBRASKA
EFFECTIVE THIS FRIDAY NIGHT AND SATURDAY MORNING FROM 735 PM
UNTIL 100 AM CDT.
TORNADOES...HAIL TO 3 INCHES IN DIAMETER...THUNDERSTORM WIND
GUSTS TO 70 MPH...AND DANGEROUS LIGHTNING ARE POSSIBLE IN THESE
AREAS.
THE TORNADO WATCH AREA IS APPROXIMATELY ALONG AND 85 STATUTE
MILES EAST AND WEST OF A LINE FROM 40 MILES NORTH NORTHEAST OF
NORTH PLATTE NEBRASKA TO 70 MILES SOUTH SOUTHEAST OF BURLINGTON
COLORADO. FOR A COMPLETE DEPICTION OF THE WATCH SEE THE
ASSOCIATED WATCH OUTLINE UPDATE (WOUS64 KWNS WOU9).
REMEMBER...A TORNADO WATCH MEANS CONDITIONS ARE FAVORABLE FOR
TORNADOES AND SEVERE THUNDERSTORMS IN AND CLOSE TO THE WATCH
AREA. PERSONS IN THESE AREAS SHOULD BE ON THE LOOKOUT FOR
THREATENING WEATHER CONDITIONS AND LISTEN FOR LATER STATEMENTS
AND POSSIBLE WARNINGS.
OTHER WATCH INFORMATION...CONTINUE...WW 298...
DISCUSSION...SUPERCELLS...SOME TORNADIC CONTINUE TO DEVELOP EWD
ACROSS ERN CO WITH ADDITIONAL ROTATING STORMS IN THE VERY UNSTABLE
AIR MASS FURTHER E INTO SWRN NEB/NWRN KS. CONDITIONS WILL REMAIN
FAVORABLE FOR NOT ONLY LARGE HAIL BUT TORNADOES FOR SEVERAL MORE
HOURS AS ACTIVITY DEVELOPS SLOWLY EWD THROUGH AN UNSTABLE AIR MASS
WITH MLCAPES AOA 4000 J/KG.
AVIATION...TORNADOES AND A FEW SEVERE THUNDERSTORMS WITH HAIL
SURFACE AND ALOFT TO 3 INCHES. EXTREME TURBULENCE AND SURFACE
WIND GUSTS TO 60 KNOTS. A FEW CUMULONIMBI WITH MAXIMUM TOPS TO
550. MEAN STORM MOTION VECTOR 27025.